Why study German at TCD?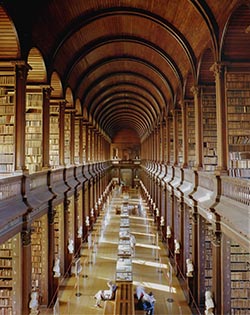 The Department of Germanic Studies at TCD offers:
A small, friendly department with nearly all teaching in small groups and a wide range of courses and combinations.
A department with an international reputation for its teaching and research, and regular successes for its students in College, national and international scholarship competitions.
A year abroad built into almost all our courses: at a university in Germany or Austria - we have links with nearly twenty -, as an assistant at a German or Austrian school, or on a work placement.
The opportunity to acquire advanced proficiency in written and spoken German, and a sound understanding of the development of modern Germany.
An unusual breadth of choice, and the opportunity to engage critically and in depth with those aspects of German and Germanic Studies - be it literature, culture, language or society - that especially interest you.

The option to learn Dutch as well as German.

A peer-learning programme in your Freshmen years and Personal Career Development and Grad-Link programmes: one-to-one linking with a graduate of the Department.

Important transferable skills integrated into our courses: presentation skills in English and German, IT skills etc.

A lively programme of activities outside class: German films; Stammtisch (German-speaking pub evening); the annual TCD-UCD German debate, a German theatre group, German pub-quizzes.

The TCD experience: close tutorial support; great student societies and sport; a beautiful campus in the heart of a cosmopolitan capital.