Silence in Architecture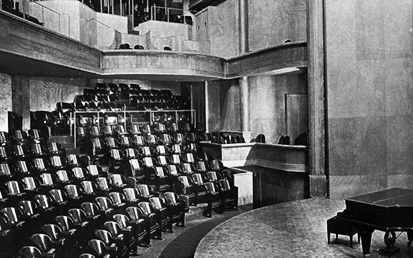 From the first human voices in caves, amphitheatres carved into hillsides, the acoustic properties of space and the impact of materials on space affects us all. 'The architect, Alejandro de la Sota, said that architects should make as much nothing as possible. This 'nothing' is the space that people inhabit. Architecture encloses people. We all stand in the 'void', in the space between; in the freespace.'
Book
Date:
Time:
Venue:

Robert Emmet Theatre, Arts Building

Booking:
About this event:
Salle Cortot in Paris by Auguste Perret is renowned for its superb acoustics and intimate space. Its acoustic environment is finely tuned, achieved by its volume, proportion and layering of materials, which are completely integrated in the building design.
Event Facilitators:
Yvonne Farrell and Shelley McNamara are the Managing Directors of Grafton Architects, Ltd. They are full professors of the Academia di Architettura in the Universita della Svizzera, Mendrisio; jointly they have held the Kenzo Tange chair in the Graduate School of Design, Harvard, and the Louis Kahn chair of architecture in Yale. Born and educated in Ireland, they are graduates of UCD; they opened their practice in Dublin in 1978.
Their Dept. of Economics, Luigi Bocconi University, Milan was awarded the Triennial Gold Medal (2007-9) by the Royal Institute of the Architects of Ireland; their Universidad de Ingenieria y Technologia was awarded the inaugural Royal Institute of British Architects International Prize in 2016.
They were appointed sole curators of the Architectural Biennale in Venice in 2018, a position taken in other years by some of the world's most celebrated architects. Their chosen theme for the biennale was FREESPACE.
Chair: Prof. Christine Casey