"Silence" by Pat Collins - Film Screening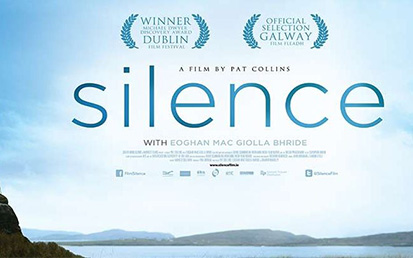 Film screening of
Silence
(2012), followed by a discussion with the Director, Prof. Sarah O'Brien (CLCS) and Prof. Jennifer O'Meara (Film Studies).
Influenced by elements of folklore and archive, Silence unfolds with a quiet intensity as poetic images provide an absorbing meditation on themes relating to sound, silence, history and memory.
Date:
Time:
Venue:

Samuel Beckett Theatre, Trinity College Dublin

Booking:
About this event:
The film focuses on Eoghan, a sound recordist, who is returning to Ireland to record landscapes free from man-made sound. This work takes Eoghan to remote terrain, where a series of encounters divert his attention towards a more intangible silence—one bound up with the sounds of the life he has left behind.
About the artist:
Pat Collins is a filmmaker who has directed numerous documentaries for cinema and television. He has won multiple awards for his work, which includes Oileán Thoraí (2002), Marooned (2004), Gabriel Byrne – Stories From Home (2008), 1916: The Irish Rebellion (2016) and Songs of Granite (2017).