Silence in Asian Calligraphy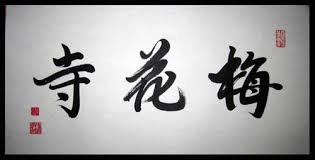 Your finished character may reflect your mood, your personality and your spirit, and the Master may be able to tell if you performed the strokes with too much haste or agitation.  When you are re-called from your silence and re-surface from concentration breaking again into your real world, you will find that participating in this workshop has left you relaxed, perhaps a little tired, but certainly proud of the work you have produced, as well as an appreciation of its beauty. A magical experience is not guaranteed, but don't be surprised if you come away from our workshop with the feeling that that is exactly what has occurred.
Date:
Time:

10.00 - 11.00
11.00 - 12.00

Venue:
Booking:

Booking required (two timeslots available)
About this event:
Chinese characters were originally based on pictures and some can still be described as pictographs. It is hardly surprising, therefore, that Chinese calligraphy is closely associated with art.
Over the centuries characters developed: they became stylized, to the extent that in some cases the early pictorial representation has been lost. Also, simple characters were combined together to create ideographs and phonograms. Consequently, Chinese characters will often refer both to sound and as well as to sense or meaning.
Writing Chinese characters induces a sense of calmness, as you find yourself immersed in concentration on your brushstrokes,  and on the differences in the effects of your strokes caused by the natural tensions throughout your entire body, the pressure of the brush on the paper, and the ink slowly diminishing on your brush.
Presenters:
Prof. Ning Jiang from the Centre for Asian Studies, based in the School of Linguistic, Speech and Communication Sciences, researches the Applied Linguistics of Chinese, with a particular focus on Chinese character writing, strategy use and translation. Ms Jiang coordinates the M.Phil. in Chinese Studies.
Mr Chang Zhang is a Mandarin Language instructor and PhD researcher at Trinity Centre for Asian Studies. He performs regular and semi-cursive scripts of Yen Chen-Ching style. He read traditional Chinese calligraphy with his grandfather, who is a calligraphy artist and ceramist in China.