Awkward Silences in Literature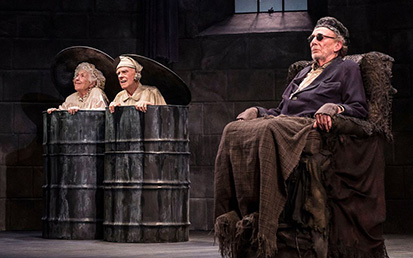 Four literary scholars will give three multimedia presentations on the uses of silence in literature. Ema Vyroubalová, Dr Julie Bates, and Dr Björn Quiring are Assistant Professors in the School of English, and Dr Feargal Whelan is Visiting Research Assistant at the Trinity Centre for Beckett Studies.
Date:
Time:
Venue:
Booking:
About this event:
Ema Vyroubalová: Shakespeare's Silent and Silenced Foreigners
Not speaking, or not speaking in a certain way, is a convenient dramaturgical tool to signal that a character is foreign and Shakespeare uses it in several plays. This talk discusses how, in addition to their dramaturgical efficacy, Shakespeare's silent and silenced foreigners question and complicate the notion of foreignness.
Julie Bates/Feargal Whelan: A Stain Upon the Silence
During Trinity Week, the Long Room will host an exhibition of two 20th-century artefacts held by Trinity's Manuscripts and Archives Research Library: Samuel Beckett's notebook containing a draft of his play Endgame which features characters confined in bins, and a note smuggled out of prison by the IRA hunger striker Bobby Sands and sent to the playwright John B Keane. This presentation explores some of the questions the exhibition raises, including the politics of silence and utterance, the cultural value of poor writing materials, and the body as a site of resistance.
Björn Quiring: From "Silence to Silence": The Power Dynamics of the Significant Pause in Harold Pinter's The Examination and in I Was No Longer His Dominant by Nurse With Wound.
Harold Pinter's early short story The Examination explores the power dynamics of non-communication and of the differentiation between significant and insignificant silences. When the experimental music band Nurse With Wound adapted the text, they enriched it by interrupting the narration by pregnant pauses and menacing bursts of noise. The talk will present these two works and reflect on some of their implications.
Presenters:
Ema Vyroubalová is Assistant Professor in the School of English, specialising in the literature of the early modern period. Her research interests include Elizabethan and Jacobean drama, Global Shakespeare, travel narrative, and translation theory. She is currently completing a monograph on foreign languages in early modern England's drama.


Dr Julie Bates is an Assistant Professor in the School of English. Her book, Beckett's Art of Salvage (Cambridge University Press, 2017), examined Beckett's curious creative loyalty to 14 poor objects throughout 50 years of experimental writing in a range of media.


Dr Feargal Whelan is Visiting Research Assistant at the Trinity Centre for Beckett Studies. His book, Beckett and the Irish Protestant Imagination (Ibidem, 2019), looks closely at the particular qualities of the cultural environment into which Beckett was born.


Dr Björn Quiring is an Assistant Professor in the School of English. His book Shakespeare's Curse (Routledge, 2014) examines the uses of ritual exclusion in early modern drama. He is interested in the relation between law and literature.