Launch and Reception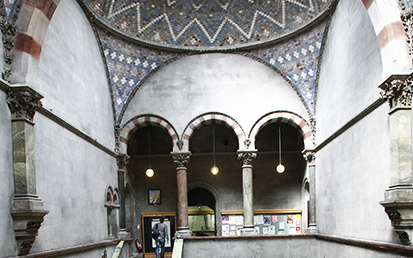 The Trinity Week Launch and reception will be made up of two events:
Quiet contemplation of  the unique polychromatic interiors and decorative features of the Museum Building, followed by a choral performance by the Mornington Singers, an award-winning mixed-voice choir based in Dublin.
Date:
Time:
Venue:
Booking:
17.30-18.00
Petrified plants and animals and decorative stone: contemplation of the Museum Building
The Museum Building in Trinity is regarded by many to be the finest Victorian building in Ireland. Designed by Benjamin Woodward and Thomas Newenham Deane it was opened in 1857 to house the School of Engineering. Recent cross-faculty research has revealed that the stone used is largely Irish and the carvings of plants and animals that adorn both the exterior and the interior of the building are of native species.
Being an active teaching building, staff and students rarely have time to stop and take in the beautiful architectural and sculptural detailing of the Museum Building particularly in its hallways where also polychromatic stone is utilized structurally to breath-taking effect. This event provides a short opportunity for visitors to view and appreciate its wonderful geological and architectural elements in a period of silence.
Event Facilitator:
Prof. Patrick Wyse Jackson, Head of School of Natural Sciences
18.00-18.30
Constellations: A choral performance by Mornington Singers conducted by Trinity Music lecturer Dr Orla Flanagan
Award-winning ensemble Mornington Singers is one of Ireland's leading mixed-voice choirs. In addition to a busy concert schedule and appearances at national and international festivals, the choir is committed to commissioning and performing the works of living composers and enjoys a close relationship with many of Ireland's most prominent composers.
Showcasing the stunning acoustic of the Museum Building, this short concert programme will be eclectic, from Henry Purcell's exuberant coronation anthem I was glad and Michael Holohan's spine-tingling setting of Bagairt na Marbh to the spectacular choral fireworks of Michael Ostrzyga's Iuppiter.
Event Facilitator:
Orla Flanagan is Assistant Professor of Music at Trinity's, School of Creative Arts. Prof, Flanangan has conducted Mornington Singers since 2002. Orla holds an Advanced Diploma from the Kodály Institute, Hungary and a Doctorate of Music in Performance from the Royal Irish Academy of Music. Winner of the McCurtain & McSwiney Award at the Cork Choral Festival's Fleischmann International Trophy Competition on multiple occasions, Orla was also awarded a special prize for interpretation at the 10th International Choral Competition, Maribor, Slovenia.