The Art of the Apocalypse
Monday, 30 January 2023, 10 – 11am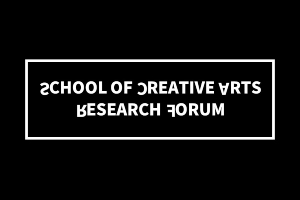 A lecture by Dr Scotty McQueen (TCD) as part of the School of Creative Arts Research Forum.
In an original YouTube web-series The Art of the Apocalypse: From A.I. to Zombie, McQueen takes a postmodern approach to the post-apocalypse. Under the pretense of preparing for a zombie (or sentient-autonomous robot) apocalypse, he takes advantage of digital platforms to prepare viewers (and himself) for the collapse or ascendence of digital technologies. Beyond simply preparing for an "apocalypse," the deeper aim of this project is to explore how hypothetical, hyperreal, and unfictional apocalyptic narratives are used as alternate-reality pedagogical strategies.
Considering the ontological status of zombies (and robots) as less than human and soulless "others" – in addition to the themes of fascism, genocide, slavery, and the glorification of weapons culture found within many such post-apocalyptic narratives – both the ethics and efficacy of zombie-apocalypse themed infotainment and gamified pedagogical strategies have been challenged. Rather than simply critique the problematic aspects of these often-innovative attempts, McQueen engages in creative practice in order to resolve them. To do this, it was necessary to deconstruct zombie apocalypse narratives (in the Derridean sense), and specifically reconstruct them as ethical and data-supported pedagogical interventions.
From A.I. to zombie, and from climate to nuclear, all apocalypses are hypothetical. With this in mind, it is difficult to say whether McQueen is LARPing as an apocalypse survivalist or whether he genuinely is one. When it comes to fantasy apocalypse survivalism, it may be as Jacques Derrida infamously put it: 'To pretend, I actually do the thing: I have therefore only pretended to pretend.' Be that as it may, hopefully the motto of his Apocalypse Scouts troop (the imaginary audience of his Art of the Apocalypse survival videos) speaks for itself: Hope for the best. Prepare for the apocalypse.

Dr Scotty McQueen is conducting creative-practice research on the topic of imaginary apocalypse survivalism with the Film Department in the School of Creative Arts at Trinity College Dublin. He holds a PhD in Theatre (Performance Studies) from University College Cork, an MFA in Physical Theatre from the Accademia dell'Arte, and an MPA in Strategic Public Policy from the American University of Paris. He is a member of the Global League of Magicians & Mentalists, an ordained minister of the Church of the Flying Spaghetti Monster, and the author of 'The End of Mind Reading' and 'Performing Psychic.'

The School of Creative Arts Research Forum meets weekly on Mondays from 10am-11am in the Neill Lecture Theatre in Trinity Long Room Hub. The aim of the Forum is to provide a space for School researchers, both staff and postgraduate students, to share their ideas in an informal and supportive environment. It is also an opportunity for the School to hear about the research of colleagues both from within TCD and from outside the university who share our research interests. In line with the research agenda of the School, talks encompass traditional research and practice-based research.

Please indicate if you have any access requirements, such as ISL/English interpreting, so that we can facilitate you in attending this event. Contact: smcqueen@tcd.ie
Campus Location
:
Trinity Long Room Hub Arts and Humanities Research Institute
Accessibility
: Yes
Room
: Neill Lecture Theatre
Research Theme
: Creative Arts Practice
Event Category
: Lectures and Seminars, Public
Type of Event
: One-time event
Audience
: Postgrad, Faculty & Staff, Public
Cost
: Free
Contact Name
: Dr Scotty McQueen
Contact Email
:
smcqueen@tcd.ie