Engravings, Paintings, Poetry: Collaborating on Illustrated Books
Tuesday, 7 February 2023, 10 – 10:50am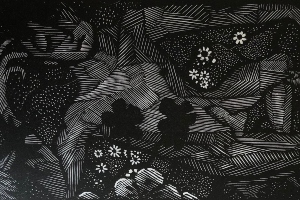 A seminar by Seán Hewitt (School of English, Trinity College Dublin) as part of the Manuscript, Book and Print Seminar Series, organised by the Manuscript, Book and Print Research Theme and the Library of Trinity College Dublin.
From wood engravings to bold, colourful paintings, from the small press and the broadsheet to the international publisher, this talk will explore the various collaborative artist-poet projects Hewitt has been involved in, and will touch on questions of process, conversation and production. The books discussed will be Buile Suibhne: Poems, with wood engravings by Amy Jeffs (Fine Press Poetry, 2021), and the forthcoming Three Hundred Thousand Kisses: Queer Love in the Ancient World (Penguin: Particular Books, 2023), with illustrations by Luke Edward Hall.
This new seminar series showcases the diversity of research conducted in Trinity related to the research theme in Manuscript, Book and Print Cultures, which among many other topics includes a focus on historical questions around the origins and development of writing systems, literatures and literary cultures, with research on issues related to textuality in society like literacy, reading and wellbeing, and policy issues around maximising access to Ireland's written cultural heritage. Papers address engaging children in reading, the wellbeing benefits to reading in Old Age, the experience of working as a creative writer with illustrators, manuscript culture, and digitisation and the new possibilities it opens up for research in this field.
Image Credit: Amy Jeffs
Campus Location
:
Trinity Long Room Hub Arts and Humanities Research Institute
Accessibility
: Yes
Room
: Neill Lecture Theatre
Research Theme
: Manuscript, Book and Print Culture
Event Category
: Arts and Culture, Lectures and Seminars, Library
Type of Event
: One-time event
Audience
: Researchers, Faculty & Staff, Public
Cost
: Free
Contact Name
: Dr Mark Faulkner