Artistic Research and Creative Outputs in the RSS
Monday, 17 October 2022, 10 – 11am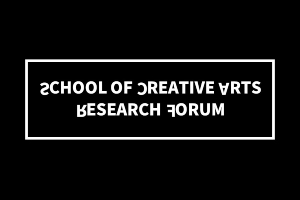 The School of Creative Arts and the Creative Arts Practice research theme will host an open forum session about capturing artistic research and creative outputs in Trinity's Research Support System (RSS), which has just launched its new user interface at https://rss.tcd.ie. After a short introduction about the conceptual issues involved and the project's history from Nicholas Johnson, the new system will be shared in a demo by Kevin Kiely, with an afterword about impact by Giovanna Lima. The project to develop better capture of creative outputs has been developed by the research theme over several years, with the support of Niamh Brennan at the Trinity Library and IMBAS, the national forum for arts practice researchers; this is the first SCA community opportunity to see the progress made to date and to discuss where we would like to go next.
Kevin Kiely is the lead software developer on Trinity's in-house developed CRIS system, the Research Support System (RSS), developed by IT Services in partnership with the Library. He played a key role in adding research outputs for Creative Arts to the RSS as well as developing a Creative Practice area for works and projects. The new RSS user interface is available at https://rss.tcd.ie.
Dr Giovanna Lima is Trinity's Arts and Humanities Research Impact Officer based in the Trinity Long Room Hub. She supports the Hub and its affiliated researchers in understanding what research impact means and can mean in the context of 20+ AH disciplines. Her experience spans from how to share your research achievements when applying for a fellowship to writing impact statements in funding proposals. She has developed a micro-website dedicated to research impact in the AH that you can check out at https://www.tcd.ie/trinitylongroomhub/local-access/impact/index.php.
Nicholas Johnson is the current director of research for the School of Creative Arts and theme convenor of Creative Arts Practice. Recent work is here.
Campus Location
:
Trinity Long Room Hub Arts and Humanities Research Institute
Accessibility
: Yes
Room
: Neill Lecture Theatre
Research Theme
: Creative Arts Practice
Event Category
: Arts and Culture, Lectures and Seminars
Type of Event
: One-time event
Audience
: Researchers, Postgrad, Faculty & Staff, Public
Cost
: Free