Writing the City of Literature: Dublin Wiki Hackathon
Saturday, 15 October 2022, 10am – 4pm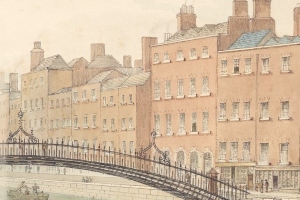 A free, public one-day event organised by the Dublin History Research Network (DHRN) in collaboration with the School of Histories and Humanities and Wikimedia Commons, and sponsored by Dublin UNESCO City of Literature and Dublin City Council.

This one-day, in-person and online, facilitated hackathon will bring together fiction lovers and those interested in Dublin's past to live-edit and write Wikipedia entries about the novels that are set in or were written in, the city and county of Dublin. We will kick off the morning with a workshop from Rebecca O'Neill of Wikimedia Community Ireland who will guide the participants through selecting, editing and writing entries for Wikipedia. Rebecca and the Dublin History Research Coordinators Ciarán Wallace, Katy Milligan and Lisa Marie Griffith will be on hand throughout the day to help participants write entries and to share resources and knowledge about the city.
This event is open to all members of the public, researchers and those interested in the history and literature of the city.
Participants will need to bring a laptop or device along to get involved in making and editing entries
If you'd like to join the day virtually you can register through our zoom meeting room details.
Duration of the event: 10.00 am-4.00 pm (tea, coffee and lunch provided) - feel free to drop in or stay all day!
Please note that by registering to attend in person, you allow the organizers to use your registration details to generate a temporary wifi access code that you can use on the day to get online.
Register here for this event.
Campus Location
:
Trinity Long Room Hub Arts and Humanities Research Institute
Accessibility
: Yes
Room
: Neill Lecture Theatre
Research Theme
: Digital Humanities
Event Category
: Arts and Culture, Lectures and Seminars, Public
Type of Event
: One-time event
Audience
: Researchers, Public
Cost
: Free but registration is essential
Contact Name
: Ciaran Wallace
Contact Email
:
cwallace@tcd.ie
More info
:
www.eventbrite.ie…