TLRH | Building the Virtual Record Treasury of Ireland: Scope, Scale and Transformations
Tuesday, 28 June 2022, 12 – 2pm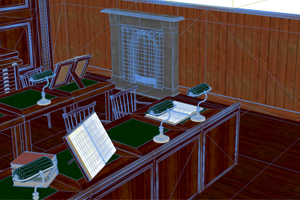 How do you rebuild a destroyed archive?
Over the past three years, an interdisciplinary team of postdoctoral researchers in Dublin, Belfast and London have been working to virtually recreate the archival collections, and the premises, of the Public Record Office of Ireland destroyed in the opening engagement of the Irish Civil War in June 1922.
Combining ground-breaking research in Computer Science and History, and in close collaboration with experts in Archival Studies and conservation, they have produced the Virtual Record Treasury of Ireland.
This research showcase will give each of the researchers an opportunity to describe their work, the challenges the team faced, and how their decisions have shaped the Virtual Record Treasury of Ireland
Join us to learn more about how we did it by registering here: 
BOOK HERE

Limited availability for in-person attendance.
 
Speakers:
Dr Elizabeth Biggs, Beyond 2022 Medieval Exchequer Research Fellow, TNA (UK)
Dr David Brown, Archival Discovery Lead, Automated Handwritten Text Recognition
Dr Brian Gurrin, Beyond 2022 Research Fellow, Census and related material
Dr Sarah Hendriks, Beyond 2022 Research Fellow, The National Archives (UK)
Dr Lynn Kilgallon, Medieval Exchequer records and Knowledge Graph (Humanities)
Dr Gary Munnelly, ADAPT Centre, Technical lead,
Dr Tim Murtagh, Beyond 2022 Research Fellow, Public Record Office of Northern Ireland
Dr Fabrizio Orlandi, ADAPT Centre, Knowledge Graph (Computer Science)
Dr Emer Gilmartin, Researcher in Spoken Dialog Technology at ADAPT Centre 

Please indicate if you have any access requirements, such as ISL/English interpreting, so that we can facilitate you in attending this event. Contact: foraffer@tcd.ie
Campus Location
:
Trinity Long Room Hub Arts and Humanities Research Institute
Accessibility
: Yes
Room
: Online webinar
Event Category
: Alumni, Arts and Culture, Lectures and Seminars, Public, Special events
Type of Event
: One-time event
Audience
: Researchers, Undergrad, Postgrad, Alumni, Faculty & Staff, Public
More info
:
www.eventbrite.ie…