"We Persist, Therefore We Have Hope": Concluding Panel Webinar
Thursday, 2 June 2022, 2 – 3:15pm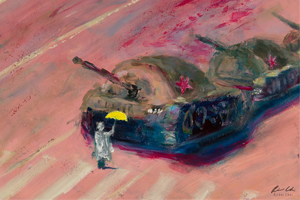 This online panel discussion marks the conclusion of the exhibition that is dedicated to visual art reflecting on the Hong Kong protests in recent years. The exhibition in the Trinity Long Room Hub was launched on 11 May 2022, and it offers glimpses into artistic responses to the protests as well as their suppression. Depicting themes such as trauma, fear, hope and resilience, the images on display highlight the complex relationship between art and protest. The participants of the concluding panel were invited to reflect on those themes, with a particular emphasis on the notions of "trauma" and "resilience". Featuring experts in trauma studies as well representatives of civil society, the panel will present a variety of perspectives on the exhibited artwork. Featuring an expert in protest art as well representative of civil society, the panel will present a variety of perspectives on the exhibited artwork. Speakers on the panel include Catherine Marshall, art historian and curator, and Jessica Ní Mhainín from the non-profit organisation Index on Censorship. The event will be opened by Provost Linda Doyle.


WATCH THE PANEL HERE
---
About the exhibition
An art exhibition featuring protest artists from Hong Kong on display in the Trinity Long Room Hub Arts and Humanities Research Institute until late June. Entitled 'We Persist Therefore we Have Hope: Trauma and Resilience of Hongkongers Through Their Art Since 2019' the exhibition showcases work from seven Hongkonger artists shared as part of the pro-democracy protests.
The exhibition explores questions of trauma, resilience, solidarity, and resistance, and how these inform Hongkongers' emerging identity as a distinct ethnic community.
The seven Hongkonger artists are Juarts, KokDamon, Lumli Lumlong, Mei Yuk Wong, Monkmonki, Ricker Choi, and vawongsir. It features 18 large-format reproductions of art and two installation artworks. The exhibition runs until late June.
Please indicate if you have any access requirements, such as ISL/English
interpreting, so that we can facilitate you in attending this event. Contact:
foraffer@tcd.ie
Campus Location
:
Trinity Long Room Hub Arts and Humanities Research Institute
Accessibility
: Yes
Room
: Online webinar
Research Theme
: Creative Arts Practice
Event Category
: Alumni, Arts and Culture, Exhibits, Lectures and Seminars, Library, Public, Special events
Type of Event
: One-time event
Audience
: Undergrad, Postgrad, Alumni, Faculty & Staff, Public
Cost
: Free but Registration Required
More info
:
www.eventbrite.ie…