TLRH | Linguistic Deprivation: How to protect deaf children.
Wednesday, 22 June 2022, 5 – 6pm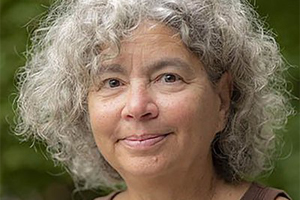 An in-person lecture from Trinity Long Room Hub Visting Fellow Pofessor Donna Jo Napoli, Swarthmore College, hosted by Professor Lorraine Leeson, TCD.

WATCH THE EVENT HERE
---
About the lecture
Language is a cognitive capacity that allows us to communicate our thoughts, our hopes, our dreams.  Through language we learn a great deal about the world and ourselves.  It is a major means of making friends and falling in love.  Without language, we cannot partake fully of our humanity; the absence of language is a catastrophe.
In this presentation I will offer common ideas of how children acquire language, and examine the situation of deaf newborns in hearing families.  We'll talk about language development in the early months of life, and the importance of surrounding babies with accessible language.  We'll consider the consequences of language deprivation and practical steps the family of a deaf child needs to take in order to protect the cognitive and psycho-social health of the child.
Please indicate if you have any access requirements, such as ISL/English interpreting, so that we can facilitate you in attending this event. Contact: 
foraffer@tcd.ie
Room
: Neill Lecture Theatre
Event Category
: Alumni, Lectures and Seminars, Library, Public
Type of Event
: One-time event
Audience
: Researchers, Undergrad, Postgrad, Alumni, Faculty & Staff, Public
Cost
: Free but Registration Required
More info
:
www.eventbrite.ie…