Curiouser and Curiouser: The Great Children's Book Quiz
Tuesday, 24 May 2022, 5:30 – 7pm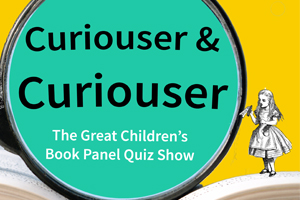 What happens when you mix children's authors with academic experts, add a drop of a humorous TV panel quiz show (think QI), a dash of the International Literature Festival Dublin, and stir with the National Collection of Children's Books research project? You get a concoction more powerful than George's marvellous medicine, of course! 


WATCH THE EVENT HERE
---
Join host Pádraic Whyte for an evening of curiosity and fun as two teams of experts battle it out, delving into the mysteries of children's books new and old, all in the style of TV panel quiz show. Participants include current Laureate na nÓg, poet and children's author Áine Ní Ghlinn, previous Laureate, novelist and poet, Peter Hunt, leading expert in children's literature and Siobhan Callaghan a PhD student – working on refugees in children's literature – judge and, reviewer.
Áine Ní Ghlinn is the current Laureate na nÓg, 2020—2023, the first to write exclusively in Irish.
Peter Hunt was the first Professor of Children's literature in the UK. He has written or edited over thirty books on the subject, has lectured all over the world, and has been a Visiting Professorial Fellow at TCD.  He is currently Adjunct Professor at DCU.
Siobhán Callaghan is a PhD student at Trinity College, Dublin. Her research examines the representation of memory and displacement in twenty-first century historical fiction for children about WWII and is funded by the Irish Research Council. 
Shane Hegarty is the author of Boot the Robot and bestselling series, Darkmouth – which is currently being developed into a big screen animation. He was formerly a journalist and editor of the Irish Times.
Pádraic Whyte is an author and a director of the Children's Literature MPhil programme at TCD School of English. 
Campus Location
:
Trinity Long Room Hub Arts and Humanities Research Institute
Accessibility
: Yes
Room
: Neill Lecture Theatre
Research Theme
: Creative Arts Practice, Digital Humanities, Making Ireland, Manuscript, Book and Print Culture
Event Category
: Alumni, Arts and Culture, Lectures and Seminars, Library, Public, Special events
Type of Event
: One-time event
Audience
: Researchers, Undergrad, Postgrad, Alumni, Faculty & Staff, Public
Cost
: Free but Registration Required
More info
:
www.eventbrite.ie…