TLRH | Archives and Memory, North and South
Wednesday, 4 May 2022, 7 – 8:15pm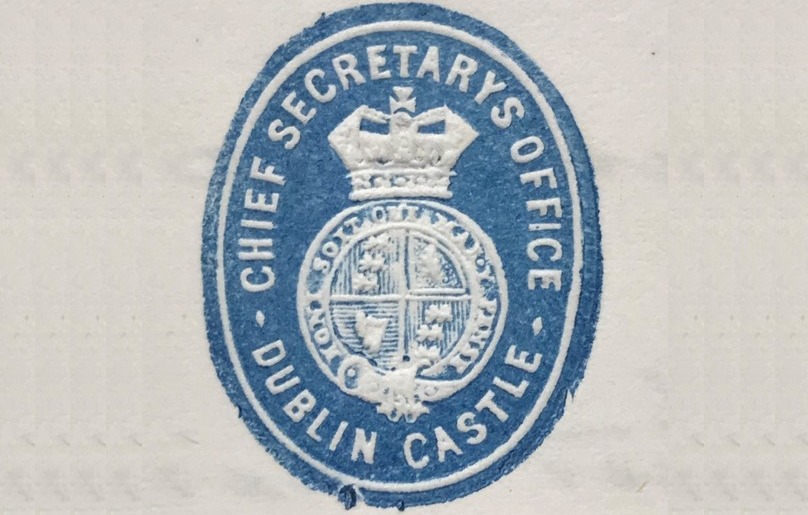 From the 1690s to 1922, the role of Chief Secretary of Ireland evolved to become the most important administrator in the country. Archives North and South reveals the benefits of deepening archival collaboration by examining the Public Record Office of Northern Ireland and its significant pre-1900 Chief Secretaries' collections, alongside the National Archives (Ireland)'s project to preserve and catalogue the nineteenth-century Chief Secretary's Office Registered Papers.


WATCH THE EVENT HERE
---
Participants
Janet Hancock, Public Record Office of Northern Ireland (PRONI) (moderator)
Stephen Scarth, Acting Keeper of the Records, Public Record Office of Northern Ireland
Tim Murtagh, Beyond 2022 Archival Discovery Research Fellow at PRONI
Nigel Johnston, Archivist, National Archives (Ireland)
About
In Archives North and South, we hear about the creation and development of the Public Record Office of Northern Ireland (PRONI), and the scale and significance of its pre-1900 Chief Secretaries' collections. As the archive approaches its centenary (2023), this panel explores PRONI's early history and the potential to reconstruct lost archives through deepening collaboration.
Founded in 1923, in the aftermath of the Four Courts fire, PRONI has worked since its inception to build collections that compensate for the losses of 1922— materials that tell the story of present-day Northern Ireland, the province of Ulster and of Ireland generally, since the sixteenth century. Working in partnership with Beyond 2022, PRONI is now leading in an attempt to reconstruct one of the largest collections destroyed in 1922: the records of the Chief Secretaries of Ireland from the eighteenth and nineteenth centuries. This initiative draws strength from a deepening collaboration between archives in Belfast and Dublin, as well as major repositories in Britain.
We will also learn about a key project at the National Archives (Ireland) to preserve and catalogue the nineteenth-century Chief Secretary's Office Registered Papers, which fortunately were not in the Four Courts during the fire of 1922. The panel will explore how the Four Courts fire has shaped archives and memory, both north and south, in the century since 1922.
A Beyond 2022 partnership event presented by the Department for Communities, Public Record Office Northern Ireland (PRONI) with the National Archives (Ireland). Hosted by the Trinity Long Room Hub Arts and Humanities Research Institute.
This initiative is part of the Decade of Centenaries Programme 2013 - 2023.

Please indicate if you have any access requirements, such as ISL/English interpreting, so that we can facilitate you in attending this event. Contact: foraffer@tcd.ie

Image: Official stamp of Chief Secretary's office, c.1881 (Courtesy of PRONI, Ref: D3007/R/1/48) 
Room
: Online webinar
Event Category
: Alumni, Arts and Culture, Exhibits, Lectures and Seminars, Library, Public, Special events
Type of Event
: One-time event
Audience
: Researchers, Undergrad, Postgrad, Alumni, Faculty & Staff, Public
Cost
: Free but Registration Required
More info
:
trinitylongroomhub-ie.zoom.us…