TLRH | Literature and the Creative Brain
Monday, 14 March 2022, 7 – 8pm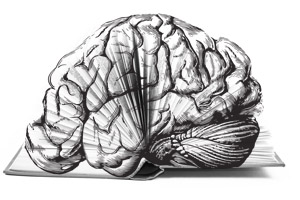 A panel discussion organised by the School of English, TCD as part of Creative Brain Week, a Global Brain Health Institute initiative (GBHI)  supported by the Trinity Long Room Hub.

WATCH THE EVENT HERE
---
Speakers:
' "That awful fire, which once did burn in thy clear brain": John Donne and the creative brain.'
Dr Mark Sweetnam
' "Timor Mortis" to "The Old Fools": On ageing, fear of dementia, and the creative brain in in poetry, medieval and modern.'
Dr Margaret Robson
' "++?????++ Out of Cheese Error. Redo From Start": Minds Without Brains in Terry Pratchett's Discworld.'
Dr Jane Carroll (online)
The discussion will be chaired by Professor Eve Patten, School of English and Director, Trinity Long Room Hub Arts and Humanities Research Institute

About Creative Brain Week
Creative Brain Week, a Global Brain Health Institute initiative (GBHI) at Trinity College Dublin, and supported across Trinity's many departments and institutes, is an exploration of how brain science and creativity collide to seed new ideas in social development, technology, entrepreneurship, culture, wellbeing, and physical, mental and brain health throughout our lives. It examines and promotes the inter-disciplinary neuroscience of creativity and the brain and all its practical applications, while at the same time highlighting the importance of Ireland and Trinity in this emergent field.
The inaugural event featuring exhibitions and talks by scientists, artists and innovators engages the public across the digital and physical Campus of Trinity College Dublin and out into the heart of the City between March 12th and March 16th 2022.
Please indicate if you have any access requirements, such as ISL/English interpreting, so that we can facilitate you in attending this event. Contact:
foraffer@tcd.ie
Room
: Neill Lecture Theatre
Research Theme
: Creative Arts Practice, Digital Humanities
Event Category
: Alumni, Arts and Culture, Conferences, Public, Special events
Type of Event
: One-time event
Audience
: Undergrad, Postgrad, Alumni, Faculty & Staff, Public
Cost
: Free (but registration is essential)
More info
:
www.eventbrite.ie…