TLRH | SLLCS | Gender and Resistance in Galician Noir Audiovisual Media
Tuesday, 22 February 2022, 4 – 5pm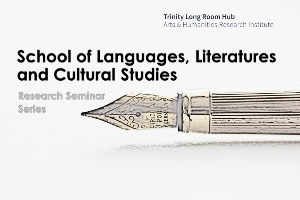 'Of Monsters and Women: Gender and Resistance in Galician Noir Audiovisual Media' a talk by Dr Catherine Barbour (TCD Dept of Hispanic Studies) as part of the School of Languages, Literatures and Cultural Studies Research Seminar Series in association with Trinity Long Room Hub.

Register here.
This presentation contrasts strategies of resistance to gender-based violence in two examples of Galician noir audiovisual media; the women-centred grassroots feminist web series Monstras (2020) directed by Eire García Cid and the TVG-Netflix commercial hit series O sabor das margaridas (2018-2020) directed by Miguel Conde. These divergent case studies muddy the binary of female victimhood and male aggression whilst drawing attention to the hegemonic sexual politics and socioeconomic systems which facilitate and endorse violence against women and girls. Yet while Monstras is first and foremost a socially conscious response to patriarchal violence, the feminist attributes of O sabor das margaridas are trumped by commercial concerns, shown for example through the eroticisation of violence. Though Galician noir has made a breakthrough on the international media circuit by foregrounding women's resistance to gender-based violence, this is manipulated in the bid for viewer ratings. Fundamentally, it continues to be in alternative media where some of the most revolutionary conversations about women's rights are taking place in the Galician cultural sphere.

Catherine Barbour is Assistant Professor in Twentieth and Twenty-First Century Spanish Peninsular Studies at Trinity College Dublin. She specialises in contemporary Iberian (especially Galician) literary and cultural studies, with a focus on representations of gender, migration and translingualism in literature and visual culture by women. Her publications include the monograph Contemporary Galician Women Writers, published by Legenda in 2020. She is currently working on her second book project on translingual feminisms in Iberian cultural production.
Please indicate if you have any access requirements, such as ISL/English interpreting, so that we can facilitate you in attending this event. Contact:
ruthnerc@tcd.ie
Campus Location
:
Trinity Long Room Hub Arts and Humanities Research Institute
Accessibility
: Yes
Event Category
: Lectures and Seminars
Type of Event
: One-time event
Audience
: Undergrad, Postgrad, Alumni, Faculty & Staff, Public
Cost
: Free but registration is required
Contact Name
: Prof Clemens Ruthners
Contact Email
:
ruthnerc@tcd.ie