TLRH | Justice, Poetry, Refugees and Borders | Poets roundtable
Thursday, 17 February 2022, 1 – 2pm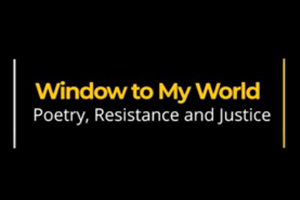 An online roundtable discussion with Neo Gilson, Jamalida Rafique, and Thirukumaran Thiruchelvan (Thiru), three of the poets who took part in our 'Window to My World' series for World Poetry Day 2021, showcasing poetry from refugees, asylum seekers, and exiled poets in Ireland. The discussion will be chaired by Professor Philip Coleman, School of English, TCD, and is organised by Dr Jude Lal Fernando, Director of Trinity Centre for Post-Conflict Justice, in association with the Trinity Long Room Hub.

WATCH THE EVENT HERE
---
Please indicate if you have any access requirements, such as ISL/English interpreting, so that we can facilitate you in attending this event. Contact: foraffer@tcd.ie
About the poets
About the poets
Neo Gilson
Neo was born in Kimberley South Africa, and currently lives in Ireland as an immigrant. She is a poet, singer, writer, story- teller, and motivational speaker. She released a gospel audio CD titled "Behind The Veil" in May 2013, which has received airplay on various radio shows in South Africa. She is a member of Poetry Africa and Samro in South Africa, a member of Women In Library in Glasgow, and a member of WOW in Ireland.
In 2020, Neo wrote a poem for the Love and Charity production in Ireland titled 'Women on Women'. She is passionate about women empowerment projects and loves to contribute to society in a meaningful way. Neo has also been part of the Breast Cancer Awareness campaign.

Jamalida Rafique
Jamalida was born in Kutupalong Refugee Camp, Bangladesh, in 2008. She was resettled along with her parents in Ireland at the age of just eight months. She is in her second year of secondary school at St. Leo's College, Carlow. She has visited the refugee camp where she was born and witnessed how hundreds of thousands of Rohingya children fled to Bangladesh during the mass exodus in 2017.
Jamalida has met and sent a letter to the UN High Commissioner for Refugees on the importance of education for Rohingya children. She continues to speak on behalf of those refugee children who have been denied their right to education.

Thirukumaran Thiruchelvan (Thiru)
Thiru is an Eelam Tamil poet, lyricist, writer, journalist, environmentalist, and author of four anthologies of poems. He was a victim of torture by the Sri Lankan security forces during the last phase of the war in that country. He was in direct provision in Ireland for four years and was granted refugee status in 2014 and now is an Irish citizen.

Thiru, who is a graduate of Jaffna University in Sri Lanka, has had his poetry included in the syllabi of postgraduate programmes on Tamil literature in three universities in the southern states of India. His poems have been translated into English, German, Irish and Sinhala. His poetry books were
launched and featured in Literature and/or Book Festivals in many countries around the world, including India, United Kingdom, Germany, Switzerland, Ireland, and Canada.
Campus Location
:
Trinity Long Room Hub Arts and Humanities Research Institute
Accessibility
: Yes
Room
: Online webinar
Research Theme
: Creative Arts Practice
Event Category
: Alumni, Arts and Culture, Lectures and Seminars, Public, Special events
Type of Event
: One-time event
Audience
: Undergrad, Postgrad, Alumni, Faculty & Staff, Public
Cost
: Free but Registration Required
More info
:
trinitylongroomhub-ie.zoom.us…