TLRH | New Year, New Media?
Tuesday, 15 February 2022, 12 – 1pm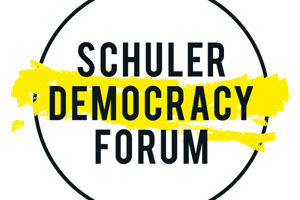 'The media provides a vital public service for our society. It is fundamental to our democracy. It underpins how people stay informed, and how they engage with Ireland's language, culture and sport.' – The Future of the Media Commission
In this virtual event, Adrian Bingham (University of Sheffield) and Mark Little (Trinity College Dublin and Kinzen) sit down with Elspeth Payne (Trinity College Dublin) to discuss the big questions facing the media in 2022.

WATCH THE EVENT HERE
---



The year will see a number of key debates and decisions being made including around public broadcasting, platforms, and funding models.
In Ireland, the full report of the Future of Media Commission is due for publication and the
Online Safety and Media Regulation Bill is currently under consideration.  
The European Commission is in the middle of an open public consultation on the forthcoming European Media Freedom Act. 
Meanwhile, a two-year licence fee freeze has intensified debates around the funding and future of the UK public broadcaster, the BBC, in its centenary year.
The 'New Year, New Media?' conversation is hosted by the Schuler Democracy Forum and the Trinity Long Room Hub Policy Initiative. It aims to explore the changing media landscape, ask what arts and humanities research has to contribute to the debate, and discuss the realities of engaging in policymaking processes.
Please indicate if you have any access requirements, such as ISL/English interpreting, so that we can facilitate you in attending this event. Contact: payneel@tcd.ie.

About the speakers
Adrian Bingham is Head of Department and Professor of Modern British History at the University of Sheffield and Senior Associate of the History & Policy initiative in the UK.
Adrian has worked extensively on the British national popular press post-1918. His books include Gender, Modernity, and the Popular Press in Inter-War Britain (Oxford, 2004) and Family Newspapers? Sex, Private Life and the British Popular Press 1918-1978 (Oxford, 2009). He is currently working on a project entitled 'Everyday Politics, Ordinary Lives: Democratic Engagement in Britain, 1918-1992', supported by an AHRC Leadership Fellowship.
Adrian has significant experience in consultation for public policymaking and has contributed to media debates about historical child sexual abuse and press regulation in the UK. His historical evidence was cited in four public reports on the Jimmy Savile scandal in 2014-15 and his research cited in the 2012 Leveson Inquiry. He has co-authored numerous policy papers and media articles, and in January 2018 he was awarded, with colleagues Louise Jackson and Lucy Delap, the first Royal Historical Society Public History Prize for Public Debate and Policy. He currently serves on the External Advisory Board of the Schuler Democracy Forum at the Trinity Long Room Hub.
Mark Little is the inaugural Schuler Democracy Forum Media Fellow in the Trinity Long Room Hub and founder and CEO of Kinzen.
Mark spent 20 years in broadcast news, as a reporter and presenter for RTÉ. He was the station's first Washington correspondent, and in 2001, he won the Irish TV Journalist of the Year award for his reporting from Afghanistan. He has been anchor of the current affairs programme Prime Time, and is the author of three books on the US and world affairs. In 2010, he founded the world's first social news agency, Storyful, which was eventually sold to News Corp. He has also worked for Twitter, as Vice President for Media in Europe and Managing Director of its International Headquarters. In 2017, he co-founded Kinzen, which combines editorial skills and artificial intelligence to protect online conversations and communities.
Mark served on the Irish Future of Media Commission and, as part of his work at Kinzen, is currently engaged in discussions on regulation and disinformation in media practice.
Elspeth Payne is the Coordinator of the Schuler Democracy Forum and Research Fellow at the Trinity Long Room Hub Arts and Humanities Research Institute. The Forum brings together Arts and Humanities researchers and media practitioners to interrogate questions relating to democracy, media, technology and communication. Elspeth also works on the renegotiation of Anglo-Irish relationships in the British press between 1922 and 1932.
Campus Location
:
Trinity Long Room Hub Arts and Humanities Research Institute
Accessibility
: Yes
Room
: Online webinar
Research Theme
: Creative Arts Practice, Digital Humanities
Event Category
: Alumni, Arts and Culture, Lectures and Seminars, Public, Special events
Type of Event
: One-time event
Audience
: Undergrad, Postgrad, Alumni, Faculty & Staff, Public
Cost
: Free (but registration is essential)
More info
:
trinitylongroomhub-ie.zoom.us…