Behind the Headlines: Falling out of Love with Dublin?
Wednesday, 9 February 2022, 7 – 8:30pm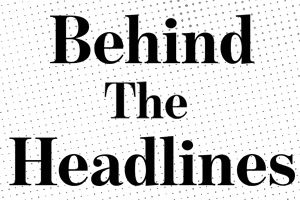 In 1922 -- the year of Ulysses, James Joyce's love letter to his native city -- Dublin of the future: the new town plan was published by Patrick Abercrombie, Sydney Kelly and Arthur Kelly, having won a competition launched by The Civics Institute of Ireland to gather ideas for the city's development. One hundred years on, and on the eve of Dublin City Council's new Development Plan, 2022 – 2028, we ask: where next for the capital's civic future?  Can Dublin citizens look forward with confidence in the management of our city? Or have recent controversies around the redevelopment of Dublin's civic and cultural spaces compounded the suspicion that corporate interests come before the public good? And what must we secure, or sacrifice, as we build for sustainability?  

In this Behind the Headlines discussion on the planning of Dublin, we ask our panellists what the historic development of Ireland's cities can tell us about the capital's future; how architecture and urban design should respond to changing social needs; and what it means to take responsibility for the civic identity of one of Europe's greatest cities. 

WATCH THE EVENT HERE
---
Speakers:
David Dickson, Professor Emeritus, Trinity College Dublin.
David Dickson is currently an Emeritus Research Fellow in the Trinity Long Room Hub.  He has published widely on Irish urban history, including Dublin: The making of a capital city (2014) and The first Irish cities: An eighteenth-century transformation (2021). He is an active member of the Irish Modern Urban History Group.
Valerie Mulvin, Co-founder, McCullough Mulvin Architects
Valerie Mulvin is a co-founder of McCullough Mulvin Architects, a Dublin-based practice focusing on the design of sustainable cultural, educational and civic buildings, with an interest in innovative contemporary architecture, place, and history.  Her recent book Approximate Formality – Morphology of Irish Towns discusses the origin, originality and potential of towns and town plans in Ireland, a timely context when increasing numbers of people have left the city for the instant environment of small towns during lockdown. Award winning buildings include Ussher Library TCD, Trinity Long Room Hub, Dublin Dental School & Hospital, and the Learning Laboratory in Thapar University, India. She is a member of Aosdána.
Owen P. Keegan, Chief Executive, Dublin City Council
Owen P Keegan was appointed as Dublin City Council Chief Executive, in September 2013 having served as County Manager of Dún Laoghaire-Rathdown County Council from February 2006. Before joining DLRCC he worked for Dublin City Council, where he was Assistant City Manager and then Director of Traffic. He has also worked in the Department of Finance, the ESRI and for two periods in the Department of the Environment, Community and Local Government.
Frank McDonald, Author and Former Irish Times Environment Editor
Frank McDonald began his journalism career with the Irish Press in the 1970s. He joined the Irish Times in 1979, becoming Environment Correspondent in 1986 and later Environment Editor in 2000, finally retiring in 2015. Throughout his career, his writing has focused on planning and development in Dublin, from the demolition of parts of the historic city to the impact of Airbnb, as well as on global climate change.  His books include The Destruction of Dublin (1985), Saving the City (1989), The Construction of Dublin (2000), Chaos at the Crossroads (2005, with James Nix), The Builders: How a Small Group of Property Developers Fuelled the Building Boom (2008, with Kathy Sheridan), Truly Frank: a Dublin Memoir (2018) and A Little History of the Future of Dublin, just published by Martello.

Eoghan Ó Ceannabháin, Socialist, Activist and Musician
 
Eoghan Ó Ceannabháin is a musician and an activist with People Before Profit. He is part of the the Dublin Is Dying group which has been campaigning against a proposed hotel development at the site of the Cobblestone pub in Smithfield. His recent album Solas an Lae, recorded with fiddle and viola player Ultan O'Brien, won best album at the RTÉ folk awards in 2021. 

The Trinity Long Room Hub Behind the Headlines series is supported by the John Pollard Foundation.

Please indicate if you have any access requirements, such as ISL/English
interpreting, so that we can facilitate you in attending this event. Contact: foraffer@tcd.ie.v
Campus Location
:
Trinity Long Room Hub Arts and Humanities Research Institute
Accessibility
: Yes
Room
: Online webinar
Research Theme
: Creative Arts Practice, Digital Humanities, Identities in Transformation, Making Ireland
Event Category
: Alumni, Arts and Culture, Lectures and Seminars, Public, Special events
Type of Event
: One-time event
Audience
: Undergrad, Postgrad, Alumni, Faculty & Staff, Public
Cost
: Free but Registration Required
Contact Email
:
foraffer@tcd.ie
More info
:
trinitylongroomhub-ie.zoom.us…