TLRH | The Road Less Travelled - Mark McMahon
Tuesday, 8 February 2022, 1 – 2pm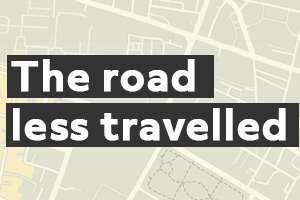 In our final recording of 'The Road Less Travelled', Sarah Grimson, Trinity Access Programme, will speak to Mark McMahon, barrister, about his pursuit of a career in criminal law and his journey through Trinity's Pathways to Law programme.
Mark McMahon was attending his local community school in Blanchardstown when he was first introduced to the idea of a career in law by his guidance councillor through the Pathways to Law Programme organised by Trinity's Access Programme (TAP). He was subsequently accepted on to the TAP Foundation Course before progressing on to a degree in Law and Business at Trinity College Dublin. During his final year at Trinity, Mark applied for the Denham Fellowship, named after the former Chief Justice, The Hon. Mrs Justice Susan Denham, which provided him with significant financial and social supports and has allowed him to pursue a career as a barrister. In this discussion he will reflect on the many social, financial, and cultural barriers he faced and continues to face at the bar.
 
---
The Road Less Travelled is a new series from the Trinity Long Room Hub and Near FM Radio featuring current and past students from Trinity College Dublin who have taken the road less travelled to education. We meet men and women from all walks of life who have overcome social barriers and surpassed prejudice and discrimination—all for the opportunity to study at third level and in Trinity's Arts and Humanities.
In this series, we celebrate different experiences in education, meeting fascinating people with unique life stories.
This talk will be subsequently broadcast on Near FM. You can listen to Near FM online www.nearfm.ie… or on 90.3FM.

You can catch up on previous episodes in the series, available here
Campus Location
:
Trinity Long Room Hub Arts and Humanities Research Institute
Accessibility
: Yes
Room
: Online webinar
Event Category
: Alumni, Arts and Culture, Healthy Trinity, Lectures and Seminars, Public, Special events
Type of Event
: One-time event
Audience
: Undergrad, Postgrad, Alumni, Faculty & Staff, Public
Cost
: Free but Registration Required
More info
:
www.eventbrite.ie…