TLRH | Medical and Health Humanities Seminar | Making Breath Visible: A Medical Humanities Approach
Wednesday, 23 March 2022, 12:30am – 1:30pm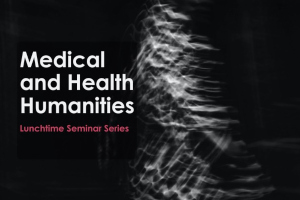 'Making Breath Visible: A Medical Humanities Approach' a seminar by Professor Jane MacNaughton (Durham) as part of the Medical and Health Humanities Lunchtime Seminar Series in association with Trinity Long Room Hub.

The Trinity College Dublin Medical and Health Humanities Initiative brings together researchers from a wide range of disciplines including history, philosophy, sociology, drama, health sciences, religion, cultural studies, arts, literature and languages.

Medical and health humanities seeks to provide insights into the cultural and social contexts within which diverse but interrelated concerns such as the human condition, the individual experience of illness and suffering, and the way medicine is (or was) practiced, might be understood.
 
---
Abstract
'What can medical humanities do to make breathlessness more visible and why is that important?   As we (hopefully) start to emerge from two years of a pandemic that has literally stollen life and breath from millions around the world, I want to reflect upon a project that came to an end just as the pandemic started.  That project, the Life of Breath, exemplifies a critical medical humanities approach in that it was interdisciplinary, concerned with lived experience, but also crucially, driven by a desire to make a difference for those most affected by this devastating symptom.  I will reflect upon the invisibility of breathlessness in relation to embodied experience, but also in the social and political spheres, and explain how the medical humanities might help to open out the understanding and knowledge of that experience, and start to find ways of improving the lives of breathless people.'  
Bio
Jane Macnaughton is Professor of Medical Humanities at Durham University in the UK and Deputy Vice Provost for Research.  Until 2021 she was Director of the University's Institute for Medical Humanities (IMH).  Jane has been centrally involved in the development of medical humanities in the UK since 1998.  She was part of the working group that set up the Association for Medical Humanities in 2001, and she established the Northern Network for Medical Humanities Research in 2013.  Her own work focusses on the idea of the embodied symptom and she has just completed a five year project exploring the lived experience of breathlessness.  Jane was a member of the Wellcome Trust Expert Review Group for established career awards in medical humanities from 2010-2020.  Jane is a qualified doctor and until recently did sessional work as an Honorary Consultant in Obstetrics and Gynaecology at the University Hospital of North Durham. 
@RJMacnaughton
The Trinity College Dublin Medical and Health Humanities initiative seeks to cultivate a richer understanding of the interactions and synergies between practices and discourses of wellness, health or medicine and the arts, humanities or culture through interdisciplinary research and education.
Attendance is open to all with relevant interests inside and outside TCD. Please indicate if you have any access requirements, such as ISL/English interpreting, so that we can facilitate you in attending this event. Contact:
doneill@tcd.ie
Campus Location
:
Trinity Long Room Hub Arts and Humanities Research Institute
Accessibility
: Yes
Event Category
: Lectures and Seminars
Type of Event
: One-time event
Audience
: Undergrad, Postgrad, Alumni, Faculty & Staff, Public
Cost
: Free but registration is required
Contact Name
: Prof Desmond O'Neill
Contact Email
:
doneill@tcd.ie