TLRH | Medical and Health Humanities Seminar | The Perceived Relationship between Medicine and the Funeral Trade in 18th century England
Wednesday, 20 April 2022, 12:30 – 1:30pm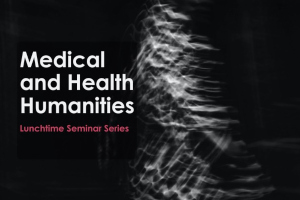 '"When the pulse won't yield a fee" the perceived relationship between medicine and the funeral trade in 18th century England' a seminar by Dr Dan O'Brien (Bath) as part of the Medical and Health Humanities Lunchtime Seminar Series in association with the Trinity Long Room Hub.

LISTEN TO THE EVENT HERE
---
Description
During the long eighteenth century the management of death was increasingly performed by a variety of different specialists: doctors, lawyers, clergymen and undertakers. In the popular culture of the period, the relationship between two of these professions was a source of great comment and satire. Doctors and undertakers were satirised because it was argued that they wielded significant authority over the fate of the dying person. Their shared interest in the condition of the dying person was highlighted by depictions that reminded audiences of the similarities which were shared by the professions such as specialist terminology, unique tools and an intimate knowledge of the human body. It is significant that some satirists interpreted the shared motives of doctors and undertakers as a cause of competition between the two parties. In these depictions, the doctor's ailing patient was snatched away by the undertaker, thus depriving him of any more payment or the chance to take the body for his own use. This paper considers how collaboration or competition were presented in popular culture and what this tells us about perceptions of professionals' motives during and after death. This approach will also allow us to discuss how satirists perceived the consequences of professionals at the deathbed. Did the comfort and reassurance offered by the professions outweigh the apparent lack of agency over one's final days and hours?

Register here
Speaker Bio
Dr Dan O'Brien is a Visiting Research Fellow at the Centre for Death and Society, University of Bath. His research focuses on the undertaking trade and their products in eighteenth century England. This has included a detailed analysis of the early trade in the west of England, with a specific focus on the prosperous settlements of Bath, Bristol and Salisbury. His research also seeks to understand how the undertakers and their goods were perceived by society, by analysing how death and dying were presented in the popular culture of the period.
The Trinity College Dublin Medical and Health Humanities Initiative brings together researchers from a wide range of disciplines including history, philosophy, sociology, drama, health sciences, religion, cultural studies, arts, literature and languages.
Medical and health humanities seeks to provide insights into the cultural and social contexts within which diverse but interrelated concerns such as the human condition, the individual experience of illness and suffering, and the way medicine is (or was) practiced, might be understood. The Trinity College Dublin Medical and Health Humanities initiative seeks to cultivate a richer understanding of the interactions and synergies between practices and discourses of wellness, health or medicine and the arts, humanities or culture through interdisciplinary research and education.
Attendance is open to all with relevant interests inside and outside TCD. Please indicate if you have any access requirements, such as ISL/English interpreting, so that we can facilitate you in attending this event. Contact:
doneill@tcd.ie
Campus Location
:
Trinity Long Room Hub Arts and Humanities Research Institute
Accessibility
: Yes
Event Category
: Lectures and Seminars
Type of Event
: One-time event
Audience
: Undergrad, Postgrad, Alumni, Faculty & Staff, Public
Cost
: Free but registration is required
Contact Name
: Des O'Neill
Contact Email
:
doneill@tcd.ie