TLRH | Contemporary Irish History | The Public Performance of Catholicism in the Irish Free State
Wednesday, 2 March 2022, 4 – 5pm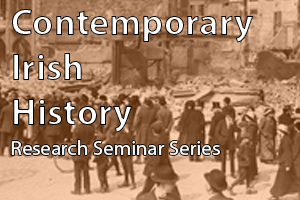 'Bodies, architecture, time: the public performance of Catholicism in the Irish Free State' a seminar by Dr Lisa Godson (National College of Art and Design) as part of the Trinity Centre for Contemporary Irish History Research Seminar Series in association with the Trinity Long Room Hub.

The Centre for Contemporary Irish History promotes research in recent Irish history. This Seminar Series is intended to act as a forum where those engaged in research in Contemporary Irish History can discuss their work with like-minded people. All webinars take place at 4pm. Presenters speak for a maximum of 45 minutes, followed by a Q&A.

Register here.
Attendance is open to all with relevant interests inside and outside TCD. Please indicate if you have any access requirements, such as ISL/English interpreting, so that we can facilitate you in attending this event. 
Campus Location
:
Trinity Long Room Hub Arts and Humanities Research Institute
Accessibility
: Yes
Event Category
: Lectures and Seminars
Type of Event
: One-time event
Audience
: Undergrad, Postgrad, Alumni, Faculty & Staff, Public
Cost
: Free but registration is required
Contact Name
: Dr Carole Holohan (
holohaca@tcd.ie
), Dr Georgina Laragy (
laragyg@tcd.ie
), Dr Ciaran O'Neill (
ciaran.oneill@tcd.ie
)