TLRH | Seeing Ireland Launch | Art, Culture, and Power in Paris, 1922
Friday, 28 January 2022, 5 – 6:30pm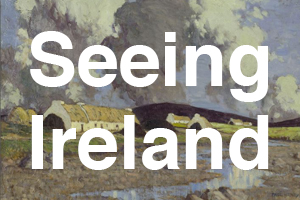 An online webinar to celebrate the launch of the new online exhibition 'Seeing Ireland' which will explore one of the most important events in Irish art history: Exposition D'Art Irlandais, held at Galerie Barbazanges in Paris in Jan-February 1922. Guest speakers include H.E. Vincent Guérend, French Ambassador to Ireland,
Mick O'Dea, PPRHA,  Sinéad Ní Mhaonaigh, ARHA, Billy Shortall, Angela Griffith, Ciaran O'Neill. The event will also feature a short virtual tour of the 3D recreation of the original exhibition space developed by NoHo Design. This event is organised in partnership with Trinity Long Room Hub. Support is being provided by the Irish Government through the Department of Foreign Affairs and the Decade of Centenaries programme.

WATCH THE EVENT HERE
---
About the exhibition 
1922 was a seminal year for Ireland and Irish identity: the modern Irish state was founded; James Joyce's Ulysses was published in Paris; and the Irish Race Congress, an international conference and accompanying Irish art exhibition that was a reckoning of Irish identity politics, was held in the French capital.

As part of the decade of centenaries commemorations an ambitious series of interlinked events and exhibitions will take place in the Midwest US, Ireland, and European capitals in 2022 to reflect on the events of 100 years ago, to examine the journey Ireland and Irish identity have travelled over the past century of statehood, and to look ahead to Ireland's next century.

In January, an online exhibition at the Trinity Long Room Hub organised by Prof Ciaran O'Neill and Dr Billy Shortall (School of Histories and Humanities) will interrogate one of the most important events in Irish art history: Exposition D'Art Irlandais, opened at Galerie Barbazanges in Paris in January 1922. The Exposition, associated with the World Congress, featured established and emerging talent in what would become known as the 'Irish School of Art'. Artists as diverse as Sarah Purser, Jack Yeats, Sean Keating, John Lavery, Lily Yeats, and Constance Markievicz displayed nationalist work in an overt attempt to legitimate a postcolonial presence in the global field for Irish art and crafts. This new exhibition—an immersive experience and 3D recreation of the original exhibition space-- will recreate, remember, and question this foundational moment in Irish art history.
Please indicate if you have any access requirements, such as ISL/English
interpreting, so that we can facilitate you in attending this event. Contact:
foraffer@tcd.ie
Campus Location
:
Trinity Long Room Hub Arts and Humanities Research Institute
Accessibility
: Yes
Room
: Online webinar
Research Theme
: Creative Arts Practice, Digital Humanities, Making Ireland
Event Category
: Alumni, Arts and Culture, Conferences, Exhibits, Lectures and Seminars, Library, Public, Special events
Type of Event
: One-time event
Audience
: Undergrad, Postgrad, Alumni, Faculty & Staff, Public
Cost
: Free but Registration Required
More info
:
trinitylongroomhub-ie.zoom.us…