Padraic Colum Symposium
Tuesday, 11 January 2022, 11:15am – 3:15pm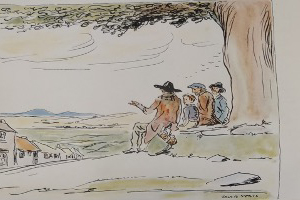 Padraic Colum (8th August 1881—11th January 1972): A 50th Anniversary Celebration of his Life and Work

An online symposium symposium to mark the 50th Anniversary of Padraic Colum (8th August 1881—11th January 1972). Organised by Dr Pádraic Whyte, School of English, TCD  and Dr Keith O'Sullivan, School of English, DCU in partnership with the Trinity Long Room Hub and the DCU Faculty of Humanities and Social Sciences and supported by the TCD Arts and Social Sciences Benefaction Fund.

WATCH THE SYMPOSIUM'S KEYNOTE ADDRESS HERE
---
About Padraic Colum 
Born in Longford, Padraic Colum was a poet, novelist, dramatist, biographer, children's author and collector of folklore. A founding member of the Abbey Theatre, he was heavily involved in the Irish Revival and was friends with figures such as WB Yeats, Lady Gregory and Arthur Griffith. In 1914 he left for the U.S., becoming an American citizen in 1945 and receiving an honorary degree from Columbia University in 1958. Colum and his wife Mary lectured at Columbia University from 1939 to 1956 and collaborated together on many projects. He is best remembered as a poet, 'An Old Woman of the Roads' being one of his most popular poems. He also had a prolific career as an author of myths and legends for children and three of his books were cited (retroactively) as Newbery Honor Books. In 1922, Colum was commissioned by the Hawaiian Legislature to write up Hawaii's myths and legends as children's stories. A first edition of these Hawaiian tales was presented by the Government of Ireland to US President Obama on his visit to Ireland in 2011.
Programme for the day
11:15—12:30
Panel 1
"Casting no shadow: Padraic Colum's short fiction" Dr Paul Delaney (TCD)
"Padraic Colum as an Abbey Playwright" Professor Chris Morash (TCD)
"The Big Tree of Bunlahy": Colum's Ode to Ireland" Méabh Ní Choileáin (TCD)
12:30—13:30 Break for Lunch
13:30—14:20
Panel 2
"The landscapes of Colum through the prism of Ruskin" Dr Maxwell Barrett (DCU)
"Folklore, politics, and folklore politics" Professor Eiléan Ní Chuilleanáin (TCD)
14:20—14:30 Break
14:30—15:15
Roundtable Discussion Professor Margaret Kelleher (UCD) Dr Keith O'Sullivan (DCU) Dr Tom Walker (TCD) Dr Pádraic Whyte (TCD)
Please note the keynote lecture registration is separate for the panel discussions. 
An online keynote lecture by
Professor Margaret Kelleher (UCD)
"Plutarch Lied": Padraic Colum's Challenge to Historical Biography"
BOOK here 
Please indicate if you have any access requirements, such as ISL/English
interpreting, so that we can facilitate you in attending this event. Contact: foraffer@tcd
Campus Location
:
Trinity Long Room Hub Arts and Humanities Research Institute
Accessibility
: Yes
Room
: Online webinar
Research Theme
: Creative Arts Practice, Making Ireland, Manuscript, Book and Print Culture
Event Category
: Alumni, Arts and Culture, Key dates, Lectures and Seminars, Public, Special events
Type of Event
: One-time event
Audience
: Undergrad, Postgrad, Alumni, Faculty & Staff, Public
Cost
: Free but Registration Required
More info
:
www.eventbrite.ie…