TLRH | The Road Less Travelled - Daryl Hendley Rooney
Tuesday, 14 December 2021, 1:30 – 2:30pm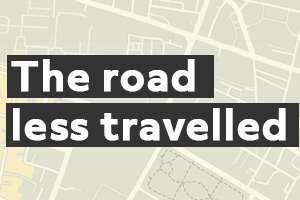 In our fifth live recording of 'The Road Less Travelled', Professor Jane Ohlmeyer, Erasmus Smith Professor of Modern History at Trinity College Dublin will speak to Daryl Hendley Rooney, a PhD candidate in the School of Histories and Humanities at Trinity College Dublin about his educational journey from Crumlin in Dublin--and a first of his family to go to university—to a doctoral degree in Irish history. 
Daryl is a PhD student in Trinity's Department of History looking at how the Irish were portrayed as 'other' by twelfth- and thirteenth-century writers in England.  His love of history can be traced back to his close relationship with his grandparents and the stories they told. During his undergraduate degree in UCD he also struck up an improbable friendship with a retired faculty member and Dominican nun.  His experience emphasises the importance of intergenerational relationships, the differences he experienced with peers in university and the opportunities that education can offer.

Book here
The Road Less Travelled is a new series from the Trinity Long Room Hub and Near FM Radio featuring current and past students from Trinity College Dublin who have taken the road less travelled to education. We meet men and women from all walks of life who have overcome social barriers and surpassed prejudice and discrimination—all for the opportunity to study at third level and in Trinity's Arts and Humanities.
In this series, we celebrate different experiences in education, meeting fascinating people with unique life stories.
Join us on a weekly basis through our livestream on Tuesdays at 1pm.
This talk will be subsequently broadcast on Near FM. You can listen to Near FM online www.nearfm.ie/livestream or on 90.3FM.
Coming up next:
Patrick McDonagh in conversation with Sarah Grimson.
Acknowledgements:
The Road Less Travelled radio series is produced by Trinity Long Room Hub and Near FM with the support of the Broadcasting Authority of Ireland through the television licence fee.The Trinity Long Room Hub would like to thank Trinity's Access Programme (TAP) for their assistance in relation to the series.
Campus Location
:
Trinity Long Room Hub Arts and Humanities Research Institute
Accessibility
: Yes
Room
: Online webinar
Event Type
: Alumni, Arts and Culture, Healthy Trinity, Lectures and Seminars, Public, Special events
Type of Event
: One-time event
Audience
: Undergrad, Postgrad, Alumni, Faculty & Staff, Public
Cost
: Free but Registration Required
More info
:
www.eventbrite.ie…