TLRH | SLLCS | Interdisciplinary Italy Research Group Showcase
Tuesday, 23 November 2021, 4 – 5pm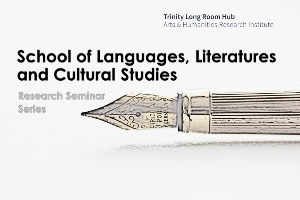 'Digital Media, Intermedia and Creativity: Interdisciplinary Italy Research Group Showcase' a panel discussion as part of the School of Languages, Literatures and Cultural Studies Research Seminar Series in association with Trinity Long Room Hub.

This panel showcases recent research by members of the international research group "Interdisciplinary Italy", run by Prof Clodagh Brook (Trinity), Prof Giuliana Pieri (Royal Holloway) and Prof Florian Mussgnug (UCL), supported by the AHRC, and incorporating the original perspectives and expertise of early career scholars.

Interdisciplinary Italy (www.interdisciplinaryitaly.org ) is an ambitious project which has aimed to reframe the discipline of Italian Studies to include arts and media which had been typically excluded from it, or marginalised within it, thereby challenging the 20th-century canon that has become established within the discipline.

Papers:
'Intermedia in Italy: Crossings and Contact zones' - Prof Clodagh Brook
This short paper will introduce the Interdisciplinary Italy research group and the project, framing it within the context of a changing Modern Languages research environment.  This project identifies the development of intermedial practice since the turn of the nineteenth century as one of the most significant paradigm shifts of the last twelve decades. It has changed the face of cultural production. The swift rise of intermedial art has quickly transformed how art is produced, and how and where we consume culture. It has radically changed what it means to be a writer, a musician, an artist. It has transformed all forms of cultural production.

Prof Clodagh Brook is Professor in Italian at Trinity. She has written extensively on interdisciplinarity, intermediality, cinema, politics and identity.

'A Textile Poetics of Entanglement: The Works of Antonella Anedda and Maria Lai' - Dr Adele Bardazzi
By looking at the works of the poet Antonella Anedda (b. Rome, 1955) and the Sardinian-born artist Maria Lai (1919–2013), this short paper investigates the relationship between poetic texts and textiles, contending that the 'intra-action', to use the feminist physicist Karen Barad's term, between the language of poetry and that of textile can be understood through a paradigm of entanglements that expands the semantic capacity of both words and textiles.

Dr Adele Bardazzi is Irish Research Council Postdoctoral Research Fellow at Trinity College Dublin. Her research focuses on modern and contemporary poetry, with a series of cross-disciplinary, comparative, and gender-orientated foci. In particular, her research interests are lyric poetry (with an emphasis on elegy), discourses of mourning and loss, issues of translation and self-translation, and the cross-fertilisation between the verbal and the visual.

'Youth, Identity and Digital Media: The Case of YouTube Italia' - Dr Cecilia Brioni
This paper introduces Dr Brioni's current IRC postdoctoral research project, which focuses on understanding how digital media, and especially social media platforms, impact media representations of contemporary Italian young people's subjectivity and identity. In particular, the project concentrates on the video sharing platform YouTube, where young creators produce and share original video content presenting their own personal opinions and lived experiences.
Dr Cecilia Brioni is an Irish Research Council Postdoctoral Research Fellow in Italian at Trinity College Dublin. Her research explores representations of Italian youth in the 20th and 21st centuries in a variety of popular media, including film, television, print media and social media.
Please indicate if you have any access requirements, such as ISL/English interpreting, so that we can facilitate you in attending this event. Contact:
ruthnerc@tcd.ie
Campus Location
:
Trinity Long Room Hub Arts and Humanities Research Institute
Accessibility
: Yes
Event Category
: Lectures and Seminars
Type of Event
: One-time event
Audience
: Undergrad, Postgrad, Alumni, Faculty & Staff, Public
Contact Name
: Prof Clemens Ruthner
Contact Email
:
clemens.ruthner@gmail.com