TLRH | The Road Less Travelled - Dr Patricia McCarthy
Tuesday, 23 November 2021, 1 – 2pm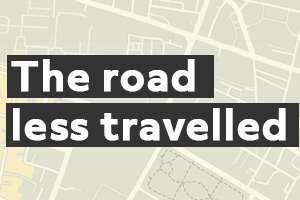 In our third live recording of 'The Road Less Travelled', Ciaran O'Neill, Ussher Associate Professor in Nineteenth-Century History at Trinity College Dublin, will speak to Dr Patricia McCarthy, Visiting Research Fellow, School of Education, about her own education journey which led her to a PhD in Trinity's School of Education.
 
At the age of two Patricia developed Juvenile Rheumatoid Arthritis, resulting in both physical and vision impairments. She left Cork at age seven to attend a special school for the blind in Dublin where she completed her primary and post-primary education. Through her story she talks about the segregated and institutional education policies of the 70s and 80s in Ireland, her subsequent readjustment to mainstream society and onto a doctoral degree and fellowship in Trinity College Dublin where she now also advocates for equal rights for people with disabilities.

LISTEN TO THE DISCUSSION HERE
---
The Road Less Travelled is a new series from the Trinity Long Room Hub and Near FM Radio featuring current and past students from Trinity College Dublin who have taken the road less travelled to education. We meet men and women from all walks of life who have overcome social barriers and surpassed prejudice and discrimination—all for the opportunity to study at third level and in Trinity's Arts and Humanities.
In this series, we celebrate different experiences in education, meeting fascinating people with unique life stories.
Join us on a weekly basis through our livestream on Tuesdays at 1pm.
This talk will be subsequently broadcast on Near FM. You can listen to Near FM online www.nearfm.ie… or on 90.3FM.
Coming up next:
Patricia Stapleton in conversation with Senator Lynn Ruane; Daryl Hendley Rooney in conversation with Professor Jane Ohlmeyer; Patrick McDonagh in conversation with Sarah Grimson.
Acknowledgements:
The Road Less Travelled radio series is produced by Trinity Long Room Hub and Near FM with the support of the Broadcasting Authority of Ireland through the television licence fee.The Trinity Long Room Hub would like to thank Trinity's Access Programme (TAP) for their assistance in relation to the series.
Campus Location
:
Trinity Long Room Hub Arts and Humanities Research Institute
Accessibility
: Yes
Room
: Online webinar
Event Category
: Alumni, Arts and Culture, Healthy Trinity, Lectures and Seminars, Public, Special events
Type of Event
: One-time event
Audience
: Undergrad, Postgrad, Alumni, Faculty & Staff, Public
Cost
: Free but Registration Required
More info
:
www.eventbrite.ie…