TLRH | Impact in Research Proposals
Wednesday, 1 December 2021, 12 – 1:30pm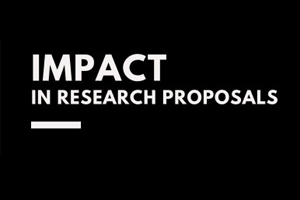 Researchers are increasingly being asked to plan for, deliver and report on their research impact, but what does that look like in the Arts and Humanities? How do you go about writing about impact when writing grant proposals? What should you take into account when planning for impact?

This session is only open for those coming from or supporting all TCD AH disciplines and the Library. 

Book here
Join us in this Zoom-hosted live interactive webinar where we will cover the basics of writing about your project's potential impact when applying for funding. Hear from AH research programme officer Maureen Burgess on how to write about research impact for grant writing, with a special recording from Patrick Lansley introducing Pilar II of Horizon Europe. This will be followed by an interactive Q&A session moderated by research impact officer Giovanna Lima, when participants will be prompted to share questions or challenges they face when reflecting about research impact as an Arts and Humanities researcher, and share one step they can take on their impact journey.

This session is only open for those coming from or supporting all TCD AH disciplines and the Library.

Please indicate if you have any access requirements, such as ISL/English interpreting, so that we can facilitate you in attending this event. Email giovanna.lima@tcd.ie.
Campus Location
:
Trinity Long Room Hub Arts and Humanities Research Institute
Accessibility
: Yes
Room
: Online webinar
Event Type
: Alumni, Public, Workshops and Training
Type of Event
: One-time event
Audience
: Postgrad, Alumni, Faculty & Staff, Public
Cost
: Free but Registration Required
More info
:
trinitylongroomhub-ie.zoom.us…