Behind the Headlines: The Culture of Work
Monday, 22 November 2021, 7 – 8:30pm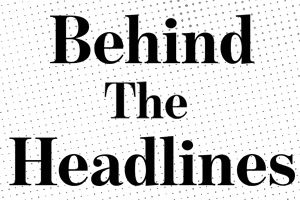 'Work is a necessary evil', wrote the American author Mark Twain. But as we emerge from the pandemic, during which working life for many changed dramatically, do we need to reconsider our attitude to the culture of work? As we transition to remote and flexible working arrangements, is there a nostalgia for the collective rotas and routines of industrial capitalism? How do we value ideas of employment and labour within contemporary society, and how are conventional historical definitions, such as 'the working class' or 'white collar occupations', changing with the times? In this Behind the Headlines, our panel of experts will consider the function and representation of work from a variety of perspectives, to address the shifting landscape of modern employment and the prospects for our working culture in the future.

WATCH THE DISCUSSION HERE
---
Speakers:
Caitríona Lally, Rooney Writer Fellow at the Trinity Long Room Hub
Caitríona Lally's first novel
Eggshells
, was published in the US by Melville House (2017) and in the UK by Borough Press (2018). Caitríona lives in Dublin and divides her time between her young children, her writing, and working in the housekeeping department at Trinity College Dublin.
Wunderland
is her second novel. When Caitríona was awarded the Rooney Prize for Irish literature in 2018, she received international media attention for being both a writer and a cleaner, with some comparing her to "a real-life Good Will Hunting."
Ryan Shanks, Managing Director, Accenture, The Dock
Ryan has been working for over 20 years at the coal face of industry around the globe, implementing new technologies, restructuring organisations, and developing talent with global organisations. His experience ranges from corporate innovation and organisation design, to culture change and leadership development. The Dock, Accenture's Flagship R&D Innovation Centre, hosts a diverse team of over 250 creative problem-solvers and allows design, technology and business to meet under one roof.
Ilse White, Corporate Learning Researcher at Learnovate, TCD
Ilse consults and collaborates with clients to improve practices in learning design and employee development. Over the past 15 years, she has gained extensive experience in learning design, learning strategy & program management and technology-enhanced learning across a wide range of topics like onboarding and management/leadership development.  She holds a MSc in Business Communication from Radboud University Nijmegen (Netherlands) and a Graduate Diploma in Education & eLearning from Dublin City University (DCU).
Dr Carole Holohan, Assistant Professor in Modern Irish History, TCD
Carole is a social historian whose research examines the social history of the sixties, with publications on the history of youth and the history of poverty in modern Ireland. Her book
Reframing Irish Youth in the Sixties
(Liverpool University Press, 2018) also explores Irish attitudes to welfare and employment, economic growth, and emigration. Prior to her arrival at Trinity College, Carole held an Irish Research Council Postdoctoral fellowship at University College Dublin and a teaching fellowship at St. Patrick's College Drumcondra.
The Trinity Long Room Hub Behind the Headlines series is supported by the John Pollard Foundation.
Please indicate if you have any access requirements, such as ISL/English
interpreting, so that we can facilitate you in attending this event. Contact:
foraffer@tcd.ie
.
Campus Location
:
Trinity Long Room Hub Arts and Humanities Research Institute
Accessibility
: Yes
Room
: Online webinar
Research Theme
: Digital Humanities, Identities in Transformation
Event Category
: Alumni, Arts and Culture, Lectures and Seminars, Public, Special events
Type of Event
: One-time event
Audience
: Undergrad, Postgrad, Alumni, Faculty & Staff, Public
Cost
: Free but Registration Required
More info
:
trinitylongroomhub-ie.zoom.us…