Venturing out: engaging beyond academia
Tuesday, 2 November 2021, 1 – 2pm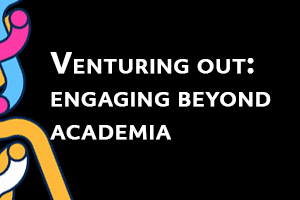 Engaging with partners and interested parties outside academia is increasingly common in research projects. How can researchers build meaningful pathways to engagement? What engagement might look like in practice when it comes to arts and humanities research? Join us in this live interactive webinar where we will hear perspectives on principles and practices in engagement for research projects in the arts and humanities from Kate Morris and Dr Georgina Laragy. This will be followed by a Q&A hosted by Professor Eve Patten, Director of the Trinity Long Room Hub.

Book here
We welcome questions to the speakers prior to the session: please send them to Giovanna.lima@tcd.ie. The webinar is suitable for those coming from or supporting all TCD AH disciplines.
About the panellists 
Kate Morris is Head of Campus Engage on behalf of the 7 universities of Ireland, and the Technological University of Dublin. She has over 15 years' experience in stakeholder engagement for policy and practice change, including in working with policy makers, funding agencies, research staff, practitioners and the public in Ireland, France, and UK. Prior to joining the IUA Kate worked at the Centre for Effective Public Services, the French National Institute for Demographic Studies, and UNESCO NI. 
Twitter: @campus_engage
Dr Georgina Laragy is the Dublin Cemeteries Trust Assistant Professor in Public History and Cultural Heritage at Trinity College Dublin and an Irish historian focused largely on social history, in particular the history of suicide, death and poverty in nineteenth and twentieth century Ireland. She is the course co-ordinator of Trinity's M. Phil. in Public History and Cultural Heritage, which is taught in collaboration with the leading cultural institutions located in Dublin. She also works with the Dublin Cemeteries Trust at Experience Glasnevin developing their public history, education, and research activities.
Twitter: @glaragy_history
Campus Location
:
Trinity Long Room Hub Arts and Humanities Research Institute
Accessibility
: Yes
Room
: Online webinar
Event Category
: Special events, Workshops and Training
Type of Event
: One-time event
Audience
: Postgrad, Alumni
Cost
: Free but Registration Required
More info
:
trinitylongroomhub-ie.zoom.us…