TLRH | School of Creative Arts Research Forum | "Godot is Here (Kafka too!): Beckett, Havel, the Theatre of the Absurd and the ultimate (artistic) sacrifice."
Monday, 18 October 2021, 10 – 11am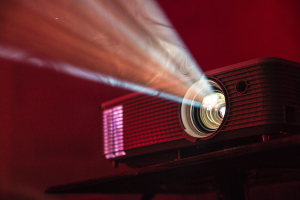 A talk by Dr. Justin Mac Gregor as part of the School of Creative Arts Research Forum, in association with the Trinity Long Room Hub. The talk will be moderated by Dr Scotty McQueen.
In 1964, to celebrate William Shakespeare's 400th birthday, the Royal Shakespeare Company were invited to tour Peter Brook's "King Lear" behind the Iron Curtain at the height of the Cold War. In 2004, the performance of Paul Scofield as Lear would be voted the greatest Shakespearean performance of the 20th Century by alumni of the Royal Shakespeare Company. While in Prague, the actors met an aspiring playwright named Vaclav Havel, whose first play, "The Garden Party" was being performed at the same time. Dr MacGregor's father, Barry, was one of the actors who became lifelong friends with the future Czech President during that time. Over the following week, Havel led the actors through Prague's illegal jazz clubs as they eluded their KGB handlers, taunted the security services and the secret police while learning about each other's art and the high cost of both freedom and dissent.
In 2019, Dr MacGregor was invited to be the Writer in Residence for the Prague UNESCO City of Literature programme to document this story as a play and screenplay as part of the 30th anniversary of the Velvet Revolution. With the support of the Vaclav Havel Library he undertook research into Vaclav Havel's side of the story in order to write "Vaclav's Prague Spring Blues." The text also features letters written by Havel to Barry MacGregor. The play covers that week in 1964, Havel's obsession with "King Lear," a shared fixation with Samuel Beckett, and the sacrifice Havel made to unite his country peacefully.
While in Prague, Dr MacGregor also started to research Franz Kafka, in particular his work "The Trial," for another project – "The Trial of Michael K."
The talk will elaborate on Dr MacGregor's research and outputs during this period until the present.
Justin MacGregor is an award-winning filmmaker and playwright, and the John Sherlock Assistant Professor of Screenwriting and Head of Film at Trinity College Dublin. His work focuses on real events and people. His latest film project, "Is There Anybody Out There? Young voices from inside a pandemic," was made in collaboration with 60 students at Trinity College and had its world premiere at the Virgin Media Dublin International Film Festival in 2021. His most recent writing includes the anti-war trilogy A Slow Dance with Death, the second of which, God Wept and the Devil Laughed, won a Manchester Theatre Award in 2012. His latest work involves collaborating with 66th generation Griot Sidiki Dembele to create a hybrid theatrical form incorporation both West European and West African tropes. Just before the pandemic, he wrote and directed "The Tears That Fall Not" which played at Smock Alley Theatre with Dez Keogh in the lead.

The School of Creative Arts Research Forum meets weekly at 10am on Mondays during term and is led by the School's doctoral students. The aim of the Forum is to give a space for School researchers, both staff and postgraduate students, to share their ideas in a supportive environment. It is also an opportunity for the School to hear about the research of colleagues both from within TCD and outside who share our research interests. In line with the research agenda of the School, talks will encompass traditional research and practice-based research and will be followed by Q&A.

Register here.

Please indicate if you have any access requirements, such as ISL/English interpreting, so that we can facilitate you in attending this event. Contact: grilec@tcd.ie
Campus Location
:
Trinity Long Room Hub Arts and Humanities Research Institute
Accessibility
: Yes
Event Type
: Lectures and Seminars
Type of Event
: One-time event
Audience
: Undergrad, Postgrad, Alumni, Faculty & Staff, Public
Contact Name
: Courtney Grile
Contact Email
:
grilec@tcd.ie