TLRH | Novel approaches to Dublin History: Historic Fiction and the City
Thursday, 2 December 2021, 7 – 8:30pm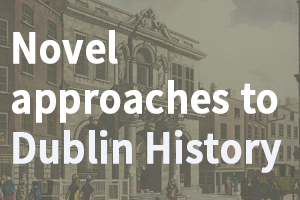 'Novel approaches to Dublin History: Historic Fiction and the City' is an online panel discussion organised by Dublin History Research Network and supported by the Trinity Long Room Hub.

Historians of Dublin use primary research to write the story of the city but many readers learn Dublin's story from historical fiction. The two forms of writing are distinct but related. Is history writing creative? Must historical fiction be accurate?

'Novel approaches to Dublin History' tackles these and related questions. How does a historian using research to portray a vision of Dublin differ from a creative writer conjuring up the city from the same historical sources? While their aims and audiences may be different, can each learn from the other's approach? What about the reader's response to well-crafted history writing, or to well-informed historical fiction? Are they two different Dublins? Does it matter?

In a conversation between historians and creative writers, using some recent works of Dublin historical fiction as a starting point this event will consider both approaches and how they inform each other to form our understanding of Dublin's story.

Book here 

About the speakers
Dr Juliana Adelman is a lecturer in History at Dublin City University. Her recent work Civilised by Beasts: animals and urban change in nineteenth-century Dublin (2020) conjures up an unfamiliar city through an imaginative use of historical sources. Among her earlier publications 'Second City of science?: Dublin as a center of calculation in the British imperial context, 1886-1912' (2018) presents yet another view of Dublin.
Dr Gillian O'Brien, Reader in Modern Irish History at Liverpool John Moores University, has co-edited Georgian Dublin (2008) and Portraits of the City: Dublin and the Wider World (2012). Her research for The Darkness Echoing: Exploring Ireland's Places of Famine, Death and Rebellion (2020) examines the powerful emotional resonances which key historical moments can create today.
Dr Éibhear Walshe is Director of Creative Writing in the School of English at University College Cork. Dublin features significantly in his historical fiction writing. The mid-twentieth century city in The Last Day at Bowen's Court (2020), the city which Handel encountered in The Trumpet Shall Sound (2019) and nineteenth-century Dublin in The Diary of Mary Travers (2014) all employ historical research to create imaginative fiction.
The conversation will be facilitated by Dr Lisa Marie Griffith, Digital Repository of Ireland, an historian and keen reader of historic fiction, who has written and edited numerous works on Dublin history, and who has explored reading in the city through her tours and podcasts on Dublin's Independent Bookshops and Dublin's book clubs.
Campus Location
:
Trinity Long Room Hub Arts and Humanities Research Institute
Accessibility
: Yes
Room
: Online webinar
Event Type
: Alumni, Arts and Culture, Lectures and Seminars, Library, Public, Special events
Type of Event
: One-time event
Audience
: Undergrad, Postgrad, Alumni, Faculty & Staff, Public
Cost
: Free but Registration Required
More info
:
trinitylongroomhub-ie.zoom.us…