TLRH | Elizabeth C. Yeats, the Cuala Press and 'Art Printing'
Tuesday, 18 May 2021, 1 – 2pm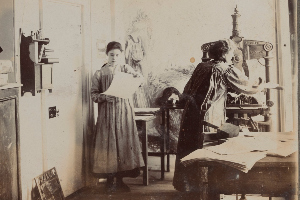 A lecture by Dr Angela Griffith organised by the Manuscript, Book and Print Cultures Research Theme in partnership with the Trinity Long Room Hub.

Elizabeth Corbet Yeats used the term 'art printing' to describe the work of the Cuala Press. She promoted the press as a hand-craft enterprise, one that celebrated the best of Irish materials and skills. Under Yeats' stewardship, the Cuala Press became a space where Irish artists had the opportunity to work in printmaking and to promote themselves professionally. This paper will explore the artistry of the prints produced, many of which were designed by her brother the painter Jack Yeats. It will examine the processes involved, including those that were at odds with other contemporary private press practices. It will also consider the aesthetic agenda of the press within the wider contexts of the period from its foundation in 1908, a time of political, social and cultural change in Ireland. 
Angela Griffith is an assistant professor with the Department of the History of Art and Architecture, TCD and is director of the Irish Art Research Centre, TCD. Recent and ongoing research; Cuala Press Project, Schooner Foundation 2020-2023, principal investigator in partnership with Trinity College Library, Making their Mark; Irish Painter-Etchers 1880-1930, (Dublin 2019) (co-author, and co-curator of National Gallery of Ireland exhibition of same title), Harry Clarke; Artistic Visions of the New Irish State, (Dublin, 2018) (co-editor).

Please indicate if you have any access requirements, such as ISL/English interpreting, so that we can facilitate you in attending this event. Contact: foraffer@tcd.ie.

Please register here.
Image: E. C. Yeats working Albion Press, Cuala Press Archive TCD MS 11535-1a  
Campus Location
:
Trinity Long Room Hub Arts and Humanities Research Centre
Accessibility
: Yes
Room
: Online
Research Theme
: Manuscript, Book and Print Culture
Event Type
: Arts and Culture, Lectures and Seminars
Type of Event
: One-time event
Audience
: Public
Cost
: Free
More info
:
trinitylongroomhub-ie.zoom.us…