Beyond 2022 Research Showcase Marking the Centenary of the Custom House Fire
Tuesday, 25 May 2021, 2:30 – 5pm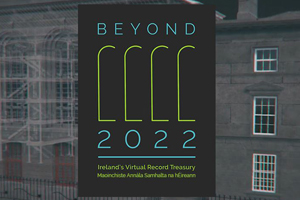 People, Place and Power: Grand Jury Records and Local History
Presented in association with Local Government Archivists and Records Managers


WATCH THE DISCUSSION HERE
---
In the 18th and 19th centuries, the Grand Jury was 'most important local body in rural Ireland'. Its records are a unique source for Irish local history, social change and genealogy. While many Grand Jury records were destroyed during the 1916–1923 period, vital collections still survive at local level across Ireland, where they are preserved by Local Archive services.
The showcase will reveal how the Grand Jury's decisions impacted directly on daily life, enforcing the law at the local level, collecting taxation and deciding where it would be spent. Grand Juries did more than build roads, bridges, courthouses and prisons. They paid for orphaned children to be boarded-out, escorted convicts for transportation, and produced very early and highly detailed maps of their districts.
Professor Virginia Crossman, author of Local Government in Nineteenth-Century Ireland, will discuss the significance of the Grand Jury records for historical research. The showcase will also visit – virtually – the reading rooms of three Local Archive services across the country, in Counties Donegal, Offaly and Wicklow, bringing you into contact with these fascinating records.
Speakers:
Professor Virginia Crossman (Emerita, Oxford Brookes)
Niamh Brennan (Donegal Archives); Lisa Shortall (Offaly Archives); Catherine Wright (Wicklow County Archives & Genealogy Service)
Brian Gurrin and David Brown (Beyond 2022 Project)
This event forms part of a day-long research showcase from the Beyond 2022: Ireland's Virtual Record Treasury Research Project marking the centenary of The Custom House Fire, 25 May 2021, organized in association with the Local Government Archives and Record Managers and supported by the Government of Ireland, through the Department of Tourism, Culture, Arts, Gaeltacht, Sport and Media, under Project Ireland 2040. You can find out more about the evening lecture
''Burning the Books', Series Finale of the Out of the Ashes series' here
Please indicate if you have any access requirements, such as ISL/English
interpreting, so that we can facilitate you in attending this event. Contact: 
foraffer@tcd.ie
. 
Room
: Online webinar
Research Theme
: Creative Arts Practice, Digital Humanities, Identities in Transformation, Making Ireland, Manuscript, Book and Print Culture
Event Category
: Alumni, Arts and Culture, Lectures and Seminars, Library, Public, Special events
Type of Event
: One-time event
Audience
: Undergrad, Postgrad, Alumni, Faculty & Staff, Public
Cost
: Free but Registration Required
More info
:
trinitylongroomhub-ie.zoom.us…