TLRH and the Herzog Centre | Why Talk About The Holocaust? A Conversation between Daniel Mendelsohn and Oliver Sears
Thursday, 13 May 2021, 6 – 7pm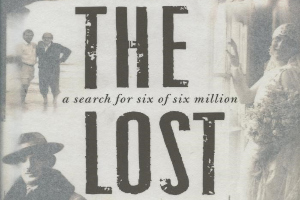 A public event organized by Holocaust Awareness Ireland and the Herzog Centre at Trinity College Dublin, in association with the Trinity Long Room Hub. "Why Talk About The Holocaust?" is the second event in this series. Daniel Mendelsohn author of the internationally bestselling Holocaust family saga, The Lost: A Search for Six of Six Million will be in conversation with Oliver Sears, moderated by Zuleika Rodgers.
 
Daniel Mendelsohn is an award-winning memoirist, critic, essayist and translator. A longtime contributor to the New Yorker and New York Review of Books, where he is Editor-at-Large, he has also been a columnist on books, film, TV, and culture for BBC Culture, New York, Harpers, and the New York Times Book Review. His books include the memoirs An Odyssey: A Father, a Son, and an Epic (2017), the internationally bestselling Holocaust family saga The Lost: A Search for Six of Six Million (2006), a translation of the Modern Greek poet Constantine Cavafy, and three collections of essays, most recently Ecstasy and Terror: From the Greeks to Game of Thrones (2019). His tenth book, Three Rings: A Tale of Exile, Narrative, and Fate, published in September, 2020, was named a Kirkus Best Book of the Year. Mr. Mendelsohn is the Director of the Robert B. Silvers Foundation, a charitable trust that supports nonfiction writing, and teaches literature at Bard College.
 
Oliver Sears is a London-born, Dublin-based art dealer & gallery owner. He is the son of a Holocaust survivor & founder of Holocaust Awareness Ireland. Formerly a trustee of Holocaust Education Trust Ireland, he is a frequent contributor to radio and newspapers including RTÉ and The Irish Times. He tells his family story 'The Objects of Love' through a collection of precious objects, documents and photographs, powerful mementoes that survived the war and describe individual lives under Nazi occupation. This was presented for the 2019 annual Kristallnacht lecture at Trinity College Dublin.
Zuleika Rodgers is Associate Professor in Jewish Studies at Trinity College Dublin. A graduate of Trinity College Dublin, she is the Director of the Herzog Centre for Jewish and Near Eastern Religions and Cultures and is currently Head of Department of Near and Middle Eastern Studies. She has been involved in Holocaust awareness and education and is the Academic Director of the Certificate in Holocaust Education.

Please indicate if you have any access requirements, such as ISL/English interpreting, so that we can facilitate you in attending this event. Contact: RODGERSZ@tcd.ie

Please register for this event here.
Campus Location
: Online
Accessibility
: N/A
Event Type
: Lectures and Seminars, Public
Type of Event
: One-time event
Audience
: Undergrad, Postgrad, Alumni, Faculty & Staff, Public
Cost
: Free
Contact Name
: Dr Zuleika Rodgers
Contact Email
:
RODGERSZ@tcd.ie
More info
:
trinitylongroomhub-ie.zoom.us…