Panel 2 | Partition: Political and Social Legacies
Friday, 7 May 2021, 1:30 – 2:45pm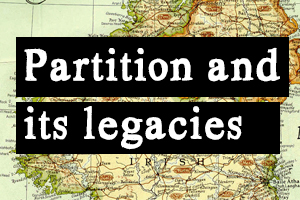 This special centenary joint symposium will address the cultural, political and social legacies of Irish partition in 1921.  The symposium consists of two panels: the first, from Trinity College, Dublin, will discuss the cultural and literary legacies of partition; the second, from Queen's University, Belfast, will cover the political and social consequences. Each panel consists of three speakers who will present for 10 minutes each, followed by audience Q and A.


WATCH THE DISCUSSION HERE
---
The symposium is hosted by the Trinity Long Room Hub. Attendees may register for either or both sessions, and all are welcome. To find out more about the morning panel click here.
 
Panel 2: Partition: political and social legacies (QUB)
Book here
1.30 pm– 2.45pm
Chair: Cheryl Lawther
Cheryl Lawther is Senior Lecturer in Law, and Director of the Human Rights Centre, at Queen's University Belfast. Her research interests are in the fields of transitional justice, truth recovery, victims, ex-combatants, reparations, emotions and conflict transformation. Her British Journal of Criminology article "Securing' the Past: Policing and the Contest over Truth in Northern Ireland' was awarded the Brian Williams Article Prize by the British Society of Criminology in 2011. Dr Lawther's book Truth, Denial and Transition: Northern Ireland and the Contested Past was published by Routledge in 2014.
Speakers:
Gladys Ganiel
Gladys Ganiel is Reader in the School of Social Sciences, Education and Social Work at Queen's University Belfast. Her research focuses on the role of religion in conflict in Northern Ireland and Zimbabwe; religion in Ireland; evangelicalism; and the emerging church. This research has included two books about evangelicalism in Northern Ireland, and an award-winning book about the emerging church. The objective of the research activity is to understand the socio-political roles of religion.
Katy Hayward
Katy Hayward is Professor of Political Sociology at Queen's University Belfast. She has two books forthcoming this summer: one on the Irish Border, for the Sage series 'What do we know and what should we do'; and also a co-authored book on 'Northern Ireland a generation after Good Friday'. In 2019, she was one of three academics appointed by the UK government to the technical expert panel of its Alternative Arrangements Advisory Group on Brexit. In 2020 she received a special award from the Christopher Ewart-Biggs Memorial Prize for her use of Twitter to illuminate and explain the implications of Brexit for the island of Ireland.
Olwen Purdue
Olwen Purdue is Senior Lecturer in History at Queen's University Belfast. She specialises in the social and economic history of nineteenth- and twentieth-century Ireland. Her research focuses on poverty, welfare and public health in the industrial city She has also worked on the history of landed estates in the north of Ireland from the end of the Famine until the onset of the Northern Troubles. Dr Purdue is actively engaged in research and teaching in Public History, something she has been instrumental in introducing to Queen's University. She is founder and Director of the Centre for Public History, and of the MA in Public History.

Panel 2: Partition: political and social legacies (QUB) Book here
Please indicate if you have any access requirements, such as ISL/English interpreting, so that we can facilitate you in attending this event. Contact: foraffer@tcd.ie

 
Campus Location
:
Trinity Long Room Hub Arts and Humanities Research Institute
Accessibility
: Yes
Room
: Online webinar
Research Theme
: Creative Arts Practice, Digital Humanities, Identities in Transformation, Making Ireland, Manuscript, Book and Print Culture
Event Category
: Alumni, Arts and Culture, Lectures and Seminars, Library, Public, Special events
Type of Event
: One-time event
Audience
: Undergrad, Postgrad, Alumni, Faculty & Staff, Public
Cost
: Free but Registration Required
More info
:
trinitylongroomhub-ie.zoom.us…