Panel 1: Partition and its legacies: Cultural and Literary Legacies
Friday, 7 May 2021, 11am – 12:15pm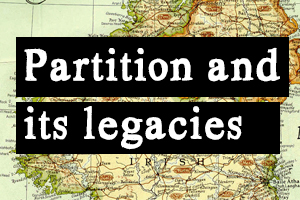 This special centenary joint symposium will address the cultural, political and social legacies of Irish partition in 1921.  The symposium consists of two panels: the first, from Trinity College, Dublin, will discuss the cultural and literary legacies of partition; the second, from Queen's University, Belfast, will cover the political and social consequences. Each panel consists of three speakers who will present for 10 minutes each, followed by audience Q and A.
The symposium is hosted by the Trinity Long Room Hub.
Attendees may register for either or both sessions, and all are welcome. You can find out more about the afternoon session 'Panel 2: Partition: Political and Social Legacies' here
 
---





Chair:  Ciaran O'Neill
Ciaran O'Neill is Associate Professor in Nineteenth Century History at Trinity College Dublin and Deputy Director of Trinity Long Room Hub. He is editor (with Finola O'Kane Crimmins) of the forthcoming MUP collection, Ireland, Slavery and the Caribbean (2022) and is currently completing a second monograph, entitled Life in a Palliative State (OUP, 2022). His current research projects focus on the Eastern Caribbean.
Speakers:
Stephen O'Neill
Stephen O'Neill's monograph, Irish Culture and Partition 1920-1955 is forthcoming with Liverpool University Press. From 2019-2020 he was an National Endowment for the Humanities Fellow at the University of Notre Dame's Keough-Naughton Institute for Irish Studies. A graduate of Queen's University Belfast, he completed his PhD in the School of English at Trinity College in 2018. Stephen will discuss the early literature and culture of partition in Ireland, with a focus on the 1920s.
Guy Woodward
Guy Woodward is the author of Culture, Northern Ireland, and the Second World War, published by OUP in 2015. He completed his doctorate and IRC-funded postdoctorate in Trinity College, and is currently Post-Doctoral Research Associate on the project 'The Political Warfare Executive, Covert Propaganda and British Culture' in the Department of English Studies, Durham University. He will talk on 'Border crossings in Irish wartime writing'.
Eve Patten
Eve Patten is Professor in Trinity's School of English and is currently Director of the Trinity Long Room Hub Arts and Humanities Research Institute. She is the editor of Irish Literature in Transition, 1940 – 1980 (CUP, 2020) and is completing a monograph, Ireland, Revolution and the English Modernist Imagination, for OUP. She will discuss depictions of the Irish border in English film and literature.

Panel 1: Partition: cultural and literary legacies (TCD) Book here
Please indicate if you have any access requirements, such as ISL/English interpreting, so that we can facilitate you in attending this event. Contact: foraffer@tcd.ie

Afternoon session - Panel 2 : Partition: political and social legacies:  Book here
Campus Location
:
Trinity Long Room Hub Arts and Humanities Research Institute
Accessibility
: Yes
Room
: Online webinar
Research Theme
: Creative Arts Practice, Digital Humanities, Identities in Transformation, Making Ireland, Manuscript, Book and Print Culture
Event Category
: Alumni, Arts and Culture, Lectures and Seminars, Library, Public, Special events
Type of Event
: One-time event
Audience
: Undergrad, Postgrad, Alumni, Faculty & Staff, Public
Cost
: Free but Registration Required
More info
:
trinitylongroomhub-ie.zoom.us…