TLRH | Does the media still serve democracy?
Tuesday, 27 April 2021, 2 – 3pm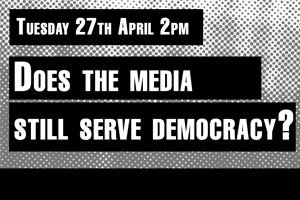 Revisiting the Fourth Estate: does the media still serve democracy?

A free, pluralistic and independent media is essential to a healthy democracy. Informed citizens can engage fully in civic life and hold leaders accountable for their action. The free flow of information and ideas also fosters inclusivity and tolerance. The press has been cast as the 'fourth estate', or the watchdog of society, since the nineteenth century. Wielding indirect power and influence, this has never been without controversy or criticism. And with a rise in polarisation, conspiracy theories, censorship, and fake news, should the media still be seen as the backbone of liberal democracy today?


WATCH THE DISCUSSION HERE
---
This panel discussion explores whether, in a changing media landscape and deepening global democratic recession, the ideal of the fourth estate is still desirable and attainable. Long-term challenges around objectivity, regulation and censorship have been exacerbated while problems of power and ownership have intensified. We are simultaneously grappling with the implications of novel technologies, including algorithms, and trying to find alternative economic models. The media is a recognised factor accelerating the democratic decline of the last two decades. As new technologies, platforms and finance streams open up alternative avenues for participation, the media might also be a vital source of democratic renewal.
Speakers:
Bruce Shapiro, Executive Director of the Dart Center for Journalism and Trauma, Columbia University (NY).
Bruce Shapiro is Executive Director of the Dart Center for Journalism and Trauma, a project of Columbia Journalism School devoted to innovation in news coverage of violence, conflict and tragedy worldwide. He is also a contributing editor at The Nation magazine and Adjunct Professor and Senior Advisor for Academic Affairs at Columbia University (New York), where he teaches journalism ethics.
Karlin Lillington, Irish Times
Karlin Lillington is a columnist with the Irish Times focusing on technology, with a special interest in its political, social, business and cultural aspects. She also has written for publications including The Guardian, New Scientist, Wired.com, and Salon.com and served on the board of RTÉ. She has a PhD in Anglo-Irish Literature from Trinity College Dublin.
Elspeth Payne, Beate Schuler Research Fellow, Trinity Long Room Hub Arts and Humanities Research Institute
Elspeth Payne is the Beate Schuler Research Fellow at the Trinity Long Room Hub where she leads the Institute's democracy initiative. She holds a PhD in History from Trinity College Dublin and is currently working on a monograph on the British tabloids and Anglo-Irish relations in the 1920s and 1930s.
Razan Ibraheem, journalist and activist
Razan Ibraheem is a journalist and activist based in Dublin. She is a specialist in verifying social media content and videos, with a particular focus on the Middle East, and worked for six years as Assistant Editor at Storyful. She is a human rights advocate, UN refugee speaker and Irish Tatler's International Woman of the Year 2016.

This event has been organised to mark the announcement of the new Schuler Forum for Democracy based in the Trinity Long Room Hub, more information about which can be found here.
Campus Location
:
Trinity Long Room Hub Arts and Humanities Research Institute
Accessibility
: Yes
Room
: Online webinar
Research Theme
: Digital Humanities
Event Category
: Alumni, Arts and Culture, Lectures and Seminars, Public, Special events
Type of Event
: One-time event
Audience
: Undergrad, Postgrad, Alumni, Faculty & Staff, Public
More info
:
trinitylongroomhub-ie.zoom.us…