TLRH | The Alhambra: A View from the East
Tuesday, 13 April 2021, 4 – 5pm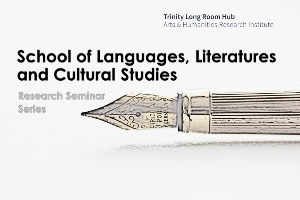 A talk by Prof Edhem Eldem (Collège de France) as part of the School of Languages, Literatures and Cultural Studies Research Seminar Series in association with Trinity Long Room Hub. All webinars take place at 4pm. Presenters speak for a maximum of 45 minutes, followed by a Q&A.
From Chateaubriand to Owen Jones, and from Washington Irving to Jean-Léon Gérôme, travellers, poets, artists, novelists, and architects have greatly contributed to the rediscovery of the Alhambra in the 19th century, thus feeding into the development of modern tourism, romanticism, medievalism, and, perhaps most of all, orientalism. The predominance of this Western phenomenon has masked the fact that the monument was also visited by increasing numbers of "Orientals," from Moroccan envoys to Ottoman diplomats, and from Maronite pilgrims to Arab and Turkish intellectuals. Tens of such visitors can be tracked down through the signatures and comments they left in the Alhambra's visitor's book, kept since 1829. Thanks to this unique source, combined with the personal writings of some prominent visitors and reports published in the local press, one can reconstitute the fascinating story of an alternative discovery, that of the Alhambra by the alleged heirs of the civilization it represented.
Edhem Eldem is a professor at the Department of History of Boğaziçi University and holds the International Chair of Turkish and Ottoman History at the Collège de France. He has also taught at Berkeley, Harvard, Columbia, EHESS, EPHE, ENS, and was a fellow at the Wissenschaftskolleg zu Berlin. His fields of interest include the Levant trade, funerary epigraphy, Istanbul, the Ottoman Bank, archaeology and photography in the Ottoman lands, Ottoman first-person narratives, Westernization, and orientalism.
Selected publications: French Trade in Istanbul in the Eighteenth Century (1999); A History of the Ottoman Bank (1999); The Ottoman City between East and West: Aleppo, Izmir and Istanbul (1999, with D. Goffman and B. Masters); Pride and Privilege. A History of Ottoman Orders, Medals and Decorations (2004); Consuming the Orient (2007); Scramble for the Past: A Story of Archaeology in the Ottoman Empire (2011, with Zainab Bahrani and Zeynep Çelik); Camera Ottomana. Photography and Modernity in the Ottoman Empire (2015, with Zeynep Çelik); L'Empire ottoman et la Turquie face à l'Occident (2018). His latest work on the subject, L'Alhambra, à la croisée des histoires, is scheduled for publication at les Belles Lettres, Paris, in May, 2021.
Everyone is welcome to attend; for further info please contact:  SIVILOGM@tcd.ie
Please indicate if you have any access requirements, such as ISL/English interpreting, so that we can facilitate you in attending this event. Contact: ruthnerc@tcd.ie

Please register here.
Campus Location
: Online
Accessibility
: N/A
Room
: Online webinar
Event Category
: Alumni, Arts and Culture, Library, Public
Type of Event
: One-time event
Audience
: Undergrad, Postgrad, Alumni, Faculty & Staff, Public
Cost
: Free
Contact Name
: Dr Clemens Ruthner
More info
:
trinitylongroomhub-ie.zoom.us…