TLRH | Annual Humanities Horizons Lecture 2021
Wednesday, 21 April 2021, 7 – 8:30pm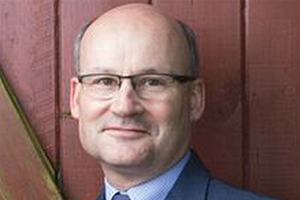 The Age of the Technocene: Why we need the Arts and Humanities in the 4th Industrial Revolution

The Trinity Long Room Hub Annual Humanities Horizons Lecture for 2021 will be delivered by Professor Andrew Thompson CBE (Professor of Global and Imperial History, Nuffield College, Oxford and co-chair of the Global and Imperial History Centre at the University of Oxford).


WATCH THE DISCUSSION HERE
---
Abstract:
With the increase in planet-warming greenhouse gases, rising sea levels, and a growing frequency of extreme weather events, the age of the anthropocene has become a familiar refrain. We live at a time when human activity is the dominant influence on our environment. If we accept even just a few of the claims made for the so-called 4th Industrial — or data science — revolution, the age of the technocene would seem to have equal justification.
Digital communication technologies and data are increasingly present in every aspect of our lives. Professor Andrew Thompson will argue that if we are to navigate and negotiate our way through the twenty-first century's industrial revolution, we will need the arts and humanities to guide the way. The machines that propelled the Industrial Revolution of the Victorian era were those of muscle power. Today's industrial revolution is propelled by cognitive power. We should be asking not what these new technologies will do to us, but what we will do with them. The 4th Industrial Revolution is not just a matter of technological challenge but of fundamental questions about how we build the kind of societies and communities in which people will want to live.
About Andrew Thompson:
Andrew Thompson is Professor of Global and Imperial History and Professorial Fellow at Nuffield College. He is the co-chair of the Global and Imperial History Centre at the University of Oxford. Professor Thompson's research interests span the effects of empire on British private and public life during the nineteenth and twentieth centuries. He has also written on Anglo-Argentine relations, colonial South Africa, transnational migration and migrant remittances, and public memories and legacies of empire. He is currently researching international humanitarianism and the aid sector, which is the subject of his forthcoming work, Humanitarianism on Trial: How a global system of aid and development emerged through the end of empire (Oxford University Press).
From 2015 to 2020 Professor Thompson was Executive Chair of the Arts and Humanities Research Council (AHRC). During his period in office he secured a £19 million grant for Museums and Galleries, as part of the Strategic Priorities Fund, Towards a National Collection: Opening UK Heritage to the World. He was responsible for securing the £10 million Policy and Evidence Centre for Modern Slavery and Human Rights and a further £80 million Creative Industries programme, funded by the Industrial Strategy. Until April 2021, he remains the UKRI International Lead for the £1.5 billion Global Challenges Research Fund (GCRF) and the Newton Fund. Professor Thompson was awarded a CBE in the 2021 New Years' Honours List for his services to Research.
Please indicate if you have any access requirements, such as ISL/English
interpreting, so that we can facilitate you in attending this event. Contact: 
foraffer@tcd.ie
.
Campus Location
:
Trinity Long Room Hub Arts and Humanities Research Institute
Accessibility
: Yes
Room
: Online webinar
Research Theme
: Creative Arts Practice, Digital Humanities, Identities in Transformation, Making Ireland, Manuscript, Book and Print Culture
Event Category
: Alumni, Arts and Culture, Conferences, Lectures and Seminars, Library, Public
Type of Event
: One-time event
Audience
: Undergrad, Postgrad, Alumni, Faculty & Staff, Public
Cost
: Free but Registration Required
More info
:
trinitylongroomhub-ie.zoom.us…