TLRH | Vampire Nation: Blood & Soil on the European Borders
Tuesday, 30 March 2021, 4 – 5pm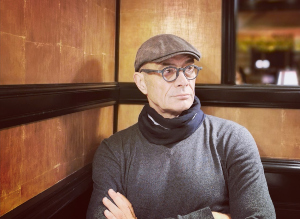 A talk by Professor Emeritus Tomislav Z. Longinović (UW Madison) as part of the School of Languages, Literatures and Cultural Studies Research Seminar Series in association with Trinity Long Room Hub. All webinars take place at 4pm. Presenters speak for a maximum of 45 minutes, followed by a Q&A.

This lecture examines the cultural mechanisms through which the Gothic imaginary, constituted during the 19th century in English-language literature, has been transformed into a discursive lens for understanding the Balkans and its apparently endless violent political and military confrontations. The last decade of the twentieth century added one more collective phantasm visualized through the lens of the Gothic imaginary: the bloodthirsty specter of 'the Serbs' as the vampires of the post-communist period during the establishment of the new world order.
Tomislav Z. Longinović (PhD, MFA) is an Emeritus Professor of Slavic, Comparative Literature and Visual Culture at the University of Wisconsin-Madison; visiting scholar at Harvard University and CEU. His books include Borderline Culture (1993), Vampires Like Us (2005), Red Knight: Serbian Women Songs (co-ed., 1992), with David Albahari, Words are Something Else (1996). He is also the author of fiction in Serbian (Sama Amerika, 1995) and Fetiš Nulo (2020) for which he was awarded the 2021 Jovan Dučić prize for best book of literary fiction. He also published many short stories in English, as well as his experimental novel Moment of Silence in 1990. His book Vampire Nation: Violence as Cultural Imaginary was awarded the 2012 Mihajlo Miša Djordjević prize for best book in South Slavic studies. His research interests include South Slavic literatures & cultures; literary theory; Central and East European literary history; comparative Slavic studies; translation studies; cultural studies. He is currently working on a book manuscript entitled The Secret of Translation, which features a theory of culture based on relational structures rather than ethnic or national ones.
Everyone is welcome to attend; for further info please contact: ruthnerc@tcd.ie
Please indicate if you have any access requirements, such as ISL/English interpreting, so that we can facilitate you in attending this event. Contact: ruthnerc@tcd.ie

Please register here.
Room
: Online webinar
Event Category
: Alumni, Arts and Culture, Library, Public
Type of Event
: One-time event
Audience
: Undergrad, Postgrad, Alumni, Faculty & Staff, Public
Cost
: Free
More info
:
trinitylongroomhub-ie.zoom.us…