TLRH | Trinity Centre for Resistance Studies Launch
Tuesday, 9 March 2021, 7 – 8pm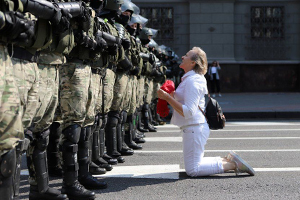 The launch of Trinity's new Centre for Resistance Studies will be marked by a keynote lecture from Professor Ruth Ben-Ghiat (Professor of History and Italian Studies, NYU),  'How to Resist a Strongman: Lessons from a Century of Authoritarian Rule'

Book here 

The Centre aims to provide an intellectual response to the growth of populism and authoritarianism across the globe by fostering interdisciplinary research in the field of resistance studies. It will provide a forum  for academics, postgraduate researchers, intellectuals and activists to discuss the meanings and manifestations of 'resistance' and its cognate terms, such as opposition, dissent, protest, non-conformism and resilience.
The disciplines represented in the Centre include history, cultural studies, the social sciences, language and literature, law, peace studies and the health sciences, and its geographical scope stretches from Hong Kong to South America, through Europe (East and West), Ireland (North and South), the Near and Middle East and the United States. The motivations behind establishing this new research centre are both academic and civic, and future activities will include events for academic as well as public audiences. In addition to organising conferences, panel discussions and podcast series on relevant themes, the Centre intends to establish a special 'resistance collection' of archival and contemporary sources that will be made available for prospective researchers.
The Centre for Resistance Studies will be launched by Vice Provost of Trinity College, Juergen Barkhoff and the event will feature a keynote lecture from Professor Ruth Ben-Ghiat of New York University, entitled 'How to Resist a Strongman: Lessons from a Century of Authoritarian Rule.' This lecture will examine a century of resistance to 'strongman' rule, using examples from Italy, Chile, Russia, America, Libya, Turkey and elsewhere. Professor Ben-Ghiat will look at the impact of changing media technologies on practices of dissent, and will also discuss what has not changed in relation, for example, to the use of mass non-violent protest or to the use of the body as a site of resistance.

Please indicate if you have any access requirements, such as ISL/English
interpreting, so that we can facilitate you in attending this event. Contact: foraffer@tcd.ie.
 
Campus Location
:
Trinity Long Room Hub Arts and Humanities Research Institute
Accessibility
: Yes
Room
: Online webinar
Event Category
: Alumni, Arts and Culture, Lectures and Seminars, Library, Public
Type of Event
: One-time event
Audience
: Undergrad, Postgrad, Alumni, Faculty & Staff, Public
More info
:
trinitylongroomhub-ie.zoom.us…