TLRH | Advancing Research Impact @TCD
Thursday, 5 November 2020, 12 – 1pm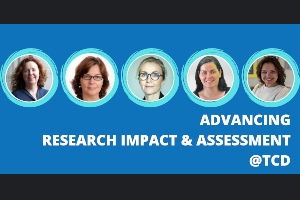 In 2020, the Dean of Research launched a pilot project to identify, support the development of, and communicate the diversity of impacts arising from the university's research ecosystem – from basic to translational activities. Join Prof Linda Doyle, Prof Eve Patten, Prof Louise Gallagher, Sarah Bowman and Dr Giovanna Lima in discussing the Research Impact Unit and efforts underway at TCD.  The webinar will:

Highlight research impact and assessment initiatives happening within the Office of the Dean of Research, Trinity Long Room Hub, and the School of Medicine @TCD

Identify those interested in research impact and assessment @TCD and discover complementary efforts 

Facilitate a conversation about research impact @TCD to understand experiences, attitudes and needs

Please register here.
Campus Location
: Online
Accessibility
: N/A
Room
: Online
Event Category
: Lectures and Seminars
Type of Event
: One-time event
Audience
: Undergrad, Postgrad, Alumni, Faculty & Staff, Public
Cost
: Free but registration is required
Contact Name
: Sarah Bowman
More info
:
zoom.us…