TLRH | Ulysses, Pandemic, and Social Distancing
Tuesday, 16 June 2020, 5 – 6pm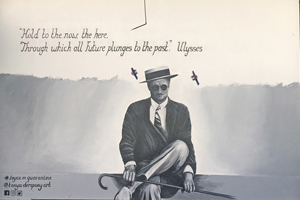 The word pandemic – from the Greek πάνδημος – means that which belongs to all people and so works as a kind of plural to the word everyman. Indeed, the Covid-19 pandemic is universal in that it touches everyone, yet it is also singular, each country, indeed, each person experiences it differently. Likewise, Ulysses is the great novel of the universal made individual, as embodied by the book's protagonist, the 'everyman' Leopold Bloom. In this webinar, four leading Joycean scholars will discuss what Joyce's Ulysses can say about the current crisis.

Register here
Valérie Bénéjam is Maîtresse de Conférences in English Literature and a member of the L'AMo (L'Antique et le Moderne) research group at the University of Nantes (France). She has written many articles about Joyce. She has coedited with John Bishop a collection of articles on the issue of Joyce's representations, across his work, of spatiality and space (Making Space in the Works of James Joyce, Routledge 2011). Her collection on Joyce and cognitive sciences, co-edited with Sylvain Belluc, Cognitive Joyce, was published with Palgrave-Macmillan (2018). She is currently writing a study of the rôle of theatre and drama in Joyce's fiction (Joyce's Novel Theatre).
Catherine Flynn is Associate Professor of English at UC Berkeley where she works on Irish modernist literature and culture in a European avant-garde context and on critical theory. Her book James Joyce and the Matter of Paris recently appeared with Cambridge University Press (2019). She is currently at work on an edited volume with CUP titled New Joyce Studies: Twenty-First Century Critical Revisions.
John McCourt is Professor of English at the University of Macerata. He is a specialist in Joyce Studies and in nineteenth and twentieth century Irish literature. The co-founder of the Trieste Joyce School (1997), he is widely published and best known for James Joyce: A Passionate Exile (London: Orion Books, and New York: St Martin's Press, 2000) and The Years of Bloom: Joyce in Trieste 1904-1920, (University of Wisconsin Press/Lilliput Press).
Sam Slote is Associate Professor at Trinity College Dublin. He is the author of Joyce's Nietzschean Ethics (Palgrave, 2013) and is the co-editor, with Luca Crispi, of How Joyce Wrote 'Finnegans Wake' (Wisconsin, 2007). His Annotations to James Joyce's 'Ulysses', cowritten with Marc Mamigonian and John Turner, will be published by Oxford University Press in 2021. In addition to Joyce and Beckett, he has written on Virginia Woolf, Vladimir Nabokov, Raymond Queneau, Antonin Artaud, Dante, Mallarmé, and Elvis.

Mural by Artist Tanya Dempsey
Campus Location
: Online
Accessibility
: N/A
Room
: Online webinar
Research Theme
: Creative Arts Practice, Identities in Transformation, Manuscript, Book and Print Culture
Event Category
: Alumni, Arts and Culture, Lectures and Seminars, Public, Special events
Type of Event
: One-time event
Audience
: Undergrad, Postgrad, Alumni, Faculty & Staff, Public
Cost
: Free but Registration Required
More info
:
zoom.us…