POSTPONED | Beckett Brunch 2020: Cross-Border Beckett / Beckett par-delà les frontières
Saturday, 18 April 2020, 10am – 1:30pm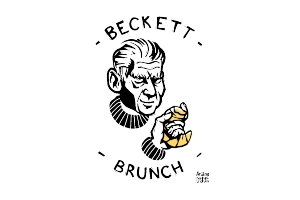 This event has been postponed due to the Covid-19 pandemic.

---
This event is presented by the Trinity Centre for Beckett Studies in partnership with the Trinity Long Room Hub, the Department of French, the Department of Drama, and the School of English.
We are delighted to invite you to the first Beckett Brunch in Dublin, on the theme of "Cross-Border Beckett." This Franco-Irish event is tailored for all literature lovers and Beckett enthusiasts, as well as Beckettian scholars and practitioners, not forgetting foodies! Born in Dublin in 1906, the young Beckett was educated between 1920 and 1923 in Enniskillen (County Fermanagh). In his early adult life, he lived in London and travelled regularly to Germany, before settling down in Paris in 1937. If crossing geographic borders was a regular experience from the start of his life, then it is not surprising that borders recur in Beckett's oeuvre. In the current political context, reading, playing, staging, or adapting Beckett's texts can provide an opportunity to think our world anew. We hope that this gathering around a key European artist will offer a convivial time to discuss physical and metaphorical borders in Beckett's work, as well as in our contemporary society. We will hear from Beckett experts, teachers, students and artists, and we are eager to also hear from you. Academic partners for this event include the Université Sorbonne Paris Nord, the Université Bretagne Loire, and the Laboratoire Héritages & Constructions dans le Texte & l'Image. Additional support has been provided by the Embassy of France in Ireland and the Alliance Française.
L'événement est présenté par le Trinity Centre for Beckett Studies, en partenariat avec le Trinity Long Room Hub, le Département de Français, le Département de Théâtre, et le Département d'Anglais. Nous sommes ravis de vous inviter au premier Beckett Brunch dublinois, autour du thème «Beckett par-delà les frontières.» Cet événement franco-irlandais s'adresse à tous les amoureux de la littérature, aux passionnés de Beckett, ainsi qu'aux universitaires et aux artistes beckettiens, sans oublier les gourmets ! Né à Dublin en 1906, le jeune Beckett a été scolarisé de 1920 à 1923 à Enniskillen (Comté de Fermanagh). Au cours des premières années de sa vie d'adulte, il a vécu à Londres et voyagé régulièrement en Allemagne, avant de s'établir à Paris en 1937. Si traverser des frontières géographiques a été dès le début de sa vie une expérience régulière, il n'est donc pas surprenant que les frontières soient un lieu fréquent dans l'œuvre de Beckett. Dans le contexte politique actuel, lire, jouer, mettre en scène, ou adapter les textes de Beckett donne l'occasion de repenser notre monde. Nous espérons que cette rencontre autour d'un artiste européen majeur créera un moment de convivialité pour discuter des frontières physiques et métaphoriques dans l'œuvre de Beckett tout autant que dans notre société contemporaine. Ce Brunch sera animé par des spécialistes beckettiens, des enseignants, des étudiants et des artistes, ainsi que par votre présence et votre éventuelle participation. Les partenaires universitaires associés à cet événement sont: l'Université Sorbonne Paris Nord, l'Université Bretagne Loire, et le Laboratoire Héritages & Constructions dans le Texte et l'Image. L'événement est également soutenu par l'Ambassade de France en Irlande et l'Alliance Française. 
Registration is required. Please register here.
Campus Location
:
Trinity Long Room Hub Arts and Humanities Research Institute
Accessibility
: Yes
Room
: Neill Lecture Theatre
Research Theme
: Creative Arts Practice, Identities in Transformation
Event Category
: Arts and Culture, Lectures and Seminars
Type of Event
: One-time event
Audience
: Public
Cost
: Free (but registration is essential)
Contact Email
:
beckettbrunch2020@gmail.com
More info
:
www.eventbrite.ie…