Dementia and Human Rights
Friday, 8 November 2019, 9am – 4pm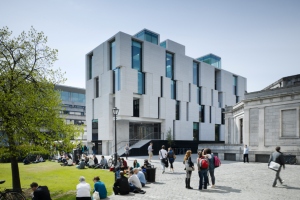 A symposium on Dementia and Human Rights organised by the Trinity Medical and Health Humanities Initiative.

The theme of this symposium has been chosen carefully as conventionally dementia is seen as a syndrome caused by a disease and not as a disability or a disability/human rights issue. While the disease framing of dementia compels us to think about plaques and tangles, brain scans, drugs, passivity and tragedy, the human rights framework is based on human dignity, autonomy, citizenship, participation and personhood. It requires governments to treat all people fairly and never to discriminate: the goal is to promote human flourishing and a good quality of life.

Ireland's ratification of the UN Convention on the Rights of Persons with Disabilities is admirable but how can the Convention be used by people living with dementia and their families to enjoy a better quality of life? Have people with this condition a right to home care services or should they be expected to pay for such services? To what extent does the Irish National Dementia Strategy underpinned by a person-centered philosophy promote the citizenship and autonomy rights of the individual? Are newly evolving policies on dementia being cross-checked to ensure compliance with human rights principles?

This symposium brings together national and international experts and aims to explore these themes along with other dementia-related issues in more depth. The symposium will be directly relevant to the learning needs of health and social care professionals working in the field of dementia care in Ireland along with policy makers, researchers and family members affected by Alzheimer's disease and the related dementias.

Please note that registration for this symposium is essential and payment is by paypal here.


---
Symposium Programme
9.00: Registration
9.30: Opening Address: Professor Linda Doyle, Dean of Research, Trinity College Dublin
9.45: Keynote address: Professor Steve Sabat: "Looking Beyond Pathology: People with Dementia Can Teach Us About Our Shared Humanity"
10.30: Dr Helen Rochford-Brennan: "Dementia as a Human Rights Concern"
10.50: Coffee
11.20:  Professor Eamon O'Shea: "Personhood, Citizenship, Rights and Public Policy on Dementia"
11.55: John Costello:  "The Human Rights of Persons with Dementia and their Carers in the Context of Assisted Decision-Making Capacity Act 2015"
12.30: Questions and Answers
12.45:  Lunch
13.30:  Senator Colette Kelleher:  "The Politics of Dementia Care; The Personal is Political"
14.00:  Panel discussion on Personhood, Disability, Autonomy, Decision Making and Rights, chaired by Professor Des O'Neill.  Speakers Tadhg Daly (Nursing Homes Ireland), Pat McLoughlin (Alzheimer Society of Ireland), Neil Murphy (The Centre for Excellence in Universal Design at the National Disability Authority), Dr Maria Pierce (Independent Researcher, Professor Steve Sabat (Georgetown University) and Susan Scally (Department of Health)
15.00: Professor Suzanne Cahill: Closure
Campus Location
:
Trinity Long Room Hub Arts and Humanities Research Institute
Accessibility
: Yes
Room
: Neill Lecture Theatre
Event Category
: Conferences, Lectures and Seminars, Public
Type of Event
: One-time event
Audience
: Undergrad, Postgrad, Faculty & Staff, Public
Cost
: €100 - registration is essential, and payment is by Paypal.
Contact Name
: Prof Desmond O'Neill
More info
:
www.tcd.ie…