Pratchett Translated
Thursday, 26 September 2019, 6 – 7:30pm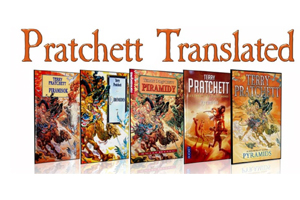 The Pratchett Project team at Trinity College Dublin is host the Pratchett Translated evening organised by the School of English; the School of Languages, Literatures, and Cultural Studies; EUNIC (European Union National Institutes for Culture) and Trinity Centre for Literary and Cultural Translation. This event is supported by the Trinity Long Room Hub Research Incentive Scheme.

In celebration of the European Day of Languages, join us for an exploration of how comic fantasy author, Terry Pratchett's famous Discworld novels are translated.

This event is generously supported by:

ESSE (European Society for the Study of English)
The Alliance Française
Embassy of the Republic of Poland
Embassy of France
Instituto Cervantes

It will focus on the plays on words that run throughout Pratchett's Discworld series. We will be joined by many of Pratchett's translators, to discuss the challenges and solutions of translating Pratchett into their own languages:


French - Patrick Couton
Hungarian - Anikó Sohár
Polish - Piotr W. Cholewa
Spanish - María Ferrer
In this event, which will take place in Trinity College Dublin's iconic examinations hall, our discussion will focus on translating the comedy and plays on words found in Pyramids. We will hear about each of the translators' engagements with Pratchett's work, and their translation choices and strategies. We will also work through a passage of Pyramids in the five languages to work out what it sounds like in each and how the humour of the text was conveyed.
Admittance is free, but booking a seat is a must.
Campus Location
:
Public Theatre / Exam Hall
Accessibility
: Yes
Room
: Examination Hall
Research Theme
: Creative Arts Practice, Digital Humanities, Manuscript, Book and Print Culture
Event Category
: Arts and Culture, Lectures and Seminars, Public, Science Gallery, Special events
Type of Event
: One-time event
Audience
: Undergrad, Postgrad, Alumni, Faculty & Staff, Public
Cost
: Free (but registration is essential)
More info
:
www.eventbrite.ie…