Terry Pratchett at the Unseen University
Friday, 20 September 2019, 6:30 – 10pm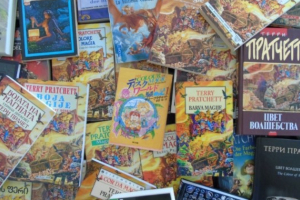 A Culture Night event organised by the School of English; the School of Languages, Literatures, and Cultural Studies; and the Library of Trinity College Dublin.

Come celebrate Trinity College Dublin's special relationship with fantasy author, Terry Pratchett. Take a walk through Trinity's world-leading collection of Pratchett materials, and see our researchers' cutting-edge techniques to analyse Pratchett's life and work.

Researchers from across the college will come together to create an interactive event, celebrating Pratchett's life, work, and his connections with Trinity. See how the work on their huge Pratchett collection covers everything from translation studies and technology to writing for children.

Sessions will be held on the following topics:
6:30 - Welcome; Introduction; Literary Translation
7:00 - Digital Humanities
7:30 - The Pratchett Collection in Liverpool
8:00 - Dementia
8:30 - Computer Games
9:00 - Children's Literature
9:30 - Digital Archives
10:00 - The Pratchett Project Vision
This is a drop-in event. All are welcome.
Campus Location
:
Trinity Long Room Hub Arts and Humanities Research Institute
Accessibility
: Yes
Room
: Neill Lecture Theatre
Event Category
: Arts and Culture, Public
Type of Event
: One-time event
Audience
: Undergrad, Postgrad, Alumni, Faculty & Staff, Public
Cost
: Free
Contact Name
: Jane Carroll and James Hadley
More info
:
culturenight.ie…